1776 FLAG COMPANY
MEMBERS RECEIVE A 13% DISCOUNT ON ALL PRODUCTS
The 1776 Flag Company is a Veteran owned and operated business.

We craft heirloom quality American wood flags. We offer a variety of styles, sizes, and options to choose from with new products added regularly.

Our flags are proudly American; handmade by an American Patriot with tools and materials sourced right here in the United States.

With a focus on character driven quality and attention to detail, the flags made by the 1776 Flag Company are second to none in design, quality, and experience.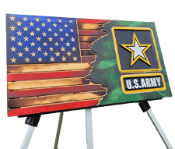 When our traditional stock options won't cut it, we will gladly make a personalized flag just for you! We will work with you to get it right, just the way you envisioned it. Our customization capabilities are practically limitless. Feel free to be as specific as you wish with the design or let our graphic designers take your idea and get creative!


Member discount code will be revealed under the company logo when logged in