MEMBERS RECEIVE A 8% DISCOUNT ON ALL PURCHASES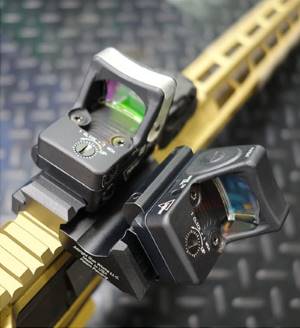 FEATURING THE AGW SIDEWINDER OPTIC MOUNT SYSTEM
• Designed and field-tested for competition shooting and law enforcement applications – Patent pending.
• Allows for mounting multiple optics or accessories in one location.
• Mounts both optics side-by-side with the angled optic on the same axis as the barrel, something that most 45° mounts fail to achieve.
• Great for USPSA's Pistol Caliber Carbine division, where competitors are required to shoot in less-than-ideal shooting positions, making a 2nd optic mounted on a 45° angle critical.
• Our improved geometry makes sighting in the 2nd optic a breeze and gives the shooter improved consistency as both optics are on the same plane as the barrel. This also achieves a more streamlined and clean-cut weapons system.
• SIDEWINDER™ can be used for tactical applications, especially with PDW-style weapons where space to mount accessories is a challenge.
• By mounting lights and lasers back by the optic, you not only help balance the firearm but also reduce the risk of snagging the accessory on a door frame or window while carrying out your duty.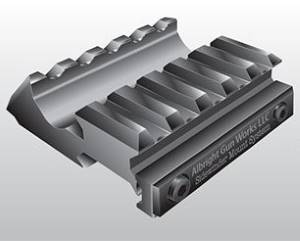 + Mounts optic at the absolute co-witness height
+ Made in Wisconsin from 7075 Billet Aluminum
+ Media Tumbled and Glass-bead Blasted
+ Black Mil-Spec Type iii Hardcoat Anodized
+ Mil-Spec profile 1913 Picatinny Rail
+ MADE IN THE U.S.A.
Member discount code will appear under company logo when logged in