MEMBERS RECEIVE A 10% DISCOUNT ON ALL PURCHASES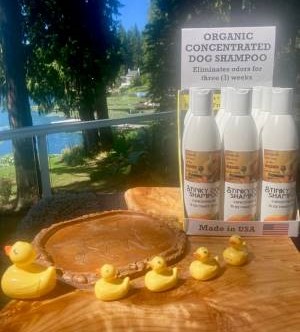 Brand New Day - products with persimmon is honored to join the Mammoth Nation family and feature "Stinky Dog Shampoo" and "What's Up Dog? Deodorizer."

Our products offer a true and effective solution for beloved but odorous canine family members. Our proprietary organic formulations have been made with love, care, and prayer. We're proudly made and packaged in the USA, guaranteed or your money back. Call your pup from out of the dog house back into your living room again.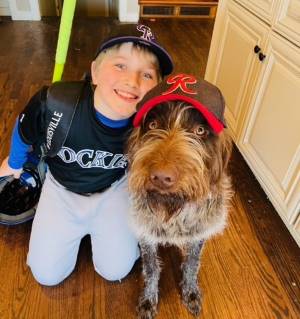 Our Story:
When our 10-year-old golden retriever Hurley was diagnosed with terminal spleen cancer, we were devastated. Our vet said he could put him down, or we could take him home and love him until he tells us it's time to go home to green pastures. Of course, we chose the latter. Like many retrievers, as Hurley aged, he developed an old dog smell. Poor guy! Regular shampoos couldn't effectively address this lipid oil buildup. Out of necessity, we tabled a formulation for a similar conundrum that seniors experience, nonenal, or "elder smell", and shifted to our Stinky Dog Shampoo formulation that was also in the works. Hurley's last bath was one month before he passed and was our stamp of approval for "Stinky Dog Shampoo." Hurley smelled clean and fresh to his last day on the earth.

We are delighted to share this quality product along with "What's Up Dog? Deodorizer" spray with you. It's a perfect combo, made for addressing smelly adventures that dogs inevitably find themselves in between bath times. Our shampoo is concentrated and goes a long way, so a ten-ounce bottle makes 40 ounces. We offer free shipping in the USA.


Member discount code will appear under company logo when logged in