Fifty States Vodka
MEMBERS RECEIVE A 10% DISCOUNT ON ALL PURCHASES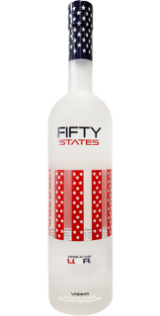 Fifty States Vodka is an all-American brand produced and bottled in the U.S.A. Our thorough 6x distillation process combined with our proprietary blend of premium, U.S. non-GMO, organic sweet corn gives Fifty States Vodka its unique and refreshing taste. Gluten free, all natural, with zero additives provides the experience of a crisp, clean, and silky-smooth vodka.

Everything from the signature Fifty States glass bottle to the cases are sourced from United States companies. The award-winning design and vodka is sure to stand out on your shelf and is the perfect bottle for celebrating with friends and family. Fifty States Vodka was created to bring unity to the drinking space. To remind us to embrace virtues of creating with care, supporting our neighbors, and to set a new standard for premium quality. "United We Drink"

UNITED WE DRINK

Our mission is to capture the American spirit of freedom, unity, hard work, entrepreneurship and fun. Nobody parties like Americans and we want to be the Vodka of choice for our friends and neighbors. We are building brand awareness across the United States organically by building online, direct to consumer sales using diverse influencers from different walks of life.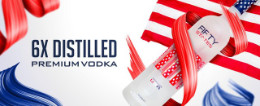 We want to be the choice vodka for all the great American holidays… Independence Day, Memorial Day, Labor Day, Veterans day and events like the Superbowl, World Series and the 3 US Major PGA events. Fifty States Vodka is a premium vodka at a blue-collar price.

A portion of all sales made by Mammoth Nation members will be donated to The Wounded Blue.

Member discount code will appear under company logo when logged in