MEMBERS RECEIVE A 20% DISCOUNT ON ALL PURCHASES
Organic food that will last from Prepper Organics!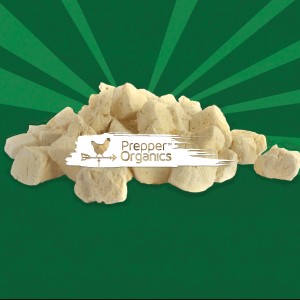 We're not one of the many "prepper" food companies that's actually owned by Bill Gates or Blackrock. We're just four American patriots who really like chicken.

Chicken can save America. Okay, so that might be overkill, but with the food crisis that's spreading across the country, it's not a stretch to say that having freeze-dried organic chicken for long-term storage can save American families from having to stand in breadlines when the "crap hits the fan."

We are laser-focused on chicken right now. The reason is simple. With bird flu, supply chain issues, and extremely high demand, we see a near-future in which chicken becomes cost-prohibitive for most Americans. It's best to offer it to our customers now before the prices skyrocket and supply dwindles. Our commitment is to use the highest quality organic food available in the United States, direct from the farm.

We provide 5lbs of organic chicken that has been suis-vied, chopped, freeze-dried (1lbs of freeze-dried chicken yields the original 5lbs once reconstituted), and bagged for your storage for up-to 25yrs. Because your food is freeze-dried in kitchens immediately after preparation, you can depend on a fresh, tasty, healthy food for decades to come.



Member discount code will appear under company logo when logged in