The Marketplace Fudge and More
MEMBERS RECEIVE A 15% DISCOUNT ON ALL PURCHASES OVER $25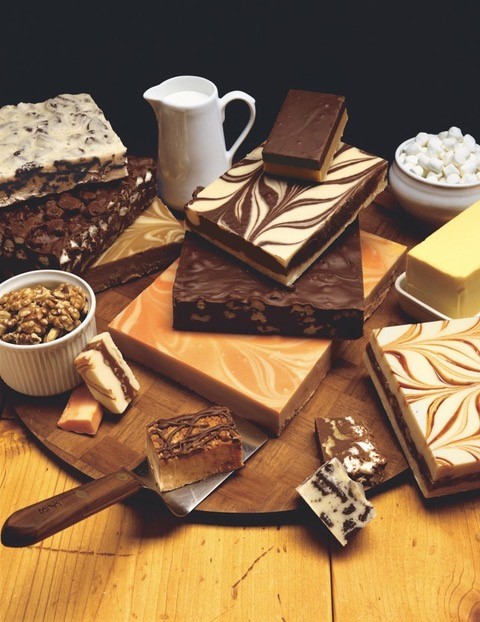 We come from a Military family, both our mom and dad served in the US Army. The Army is where they met, fell in love, and started their family. Our parents loved this country and they loved serving others. Today we continue that tradition in supporting our Military, Law Enforcement and First Responders. We owe everything to you for protecting us!

Our fudge career started in Pennsylvania; Florida natives made their way to PA to spend time with family and during that time we tried our hand at making fudge. Once we got the process down, we then attended Chamber events, Andover Flea Market and the Meadville Market House to sell our fudge. We even participated in a Chocolate Event and won 1st place with our fudge!

We moved back to Florida in 2013 and started searching for local markets, events, and festivals to sell our fudge in our spare time. We always made fudge to give as gifts and to say thank you to special people. In March of 2018, we decided to take the leap and open our own store and sell fudge at local farm stands, grocery stores and gourmet markets along with holding events at our store and selling retail.

Since then, we have been selling our products on various e-commerce sites and we are blessed to have a booming business during the past 2 years. We love to be creative and have made a fudge and turtle list of over 300 flavors. Champagne, Wine and Beer infused are some of our favorites to offer. 4 years later, you will still find us online, at Fairs, Festivals, Events and various locations throughout Florida so follow us on social media for the next one to attend, or, perhaps stop by our store. Should the fudge kettle have warm fudge in it, we are happy to offer a sample!





We offer subscription boxes, party trays, custom flavors, corporate gifts, fundraising, and make your own fudge nights. Fudge is a gift of love; it warms the hearts of those you share it with. Perfect for family, friends, and co-workers.

Celebrate any occasion with us here at The Marketplace Fudge and More.

Member discount code will appear under company logo when logged in