Viro Spectrum Shield (VSS) – Antiviral has shown high efficacy against C-19 virus
MEMBERS RECEIVE 25% DISCOUNT OFF YOUR ENTIRE PURCHASE!
The natural antiviral that surprised everyone, now carries the name Viro Spectrum Shield, and as of January 2021 has been made available to the public. Viro Spectrum Shield (VSS) is a proprietary blend of natural herbs and native plants.

The formula is simple, a proprietary blend of natural herbs containing high concentrations of flavonoids and ligands, which when combined in a natural state, are far more powerful than they are when separated.

Over a 10-year period a Federally Accredited Laboratory, Midwest Research Institute (MRIGlobal), who are also performing C-19 testing for the Federal Government has successfully tested this Broad-Spectrum Antiviral VSS formula. Specifically, it was tested in 2009 and again in 2020 against four different viruses in vitro including C-19, and it has shown high efficacy against all these viruses, namely, A/H1N1, A/H2N3, B/H2N3, and SARS-CoV-2 (C-19 virus). NO ONE ELSE CAN MAKE THAT STATEMENT!

It had 99.9% efficacy against the C-19 virus when tested in vitro when used as a preventative. Also, testing showed it to be non-toxic at normal dosage levels. Human volunteer testing over the past 15 months has also been successful. All volunteers were very sick with the flu, many of them tested positive for C-19, no one went to the hospital or died and all recovered very quickly usually within 24 to 48 hours depending on how long they had the virus before they took this antiviral formula. For over 38 years an all-natural product has been shared privately with ill people, showing amazing results against all types of viruses.

As seen in USA Today's Special Edition in Spring 2021, "There is more than a vaccine to fight against Covid, and it is time to explore new options. Something all Natural and safe is available to everyone."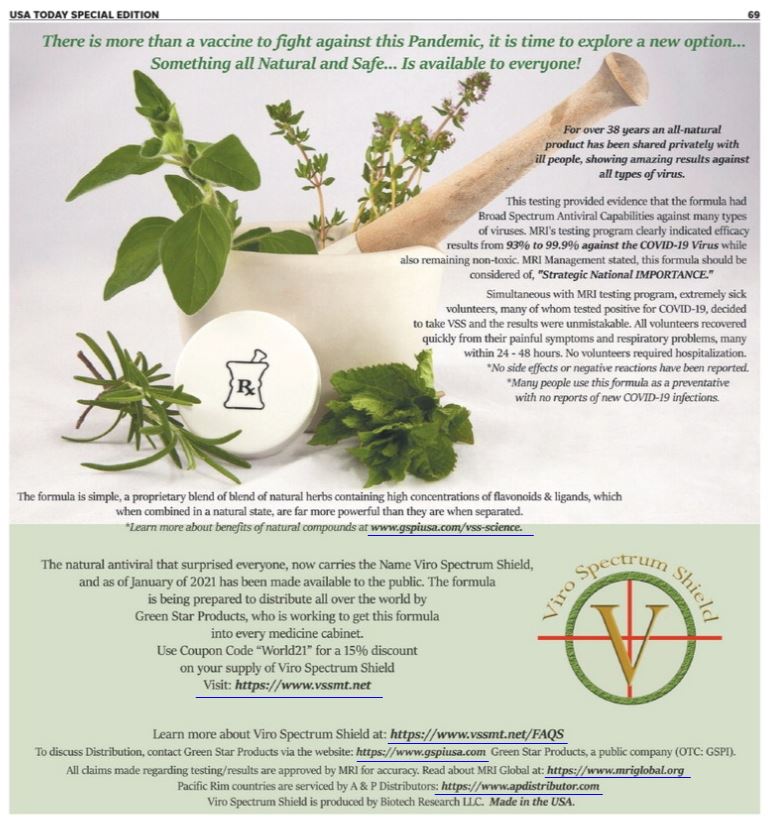 Learn more about Viro Spectrum Shield visit https://www.vssmt.net/FAQS then return here to claim your 25% off promo code!

This testing provides evidence that the formula had Broad Spectrum Antiviral capabilities against many types of viruses. MRIGlobal's testing program clearly indicate efficacy results from 93% to 99.9% against the C-19 Virus while also remaining non-toxic. MRIGlobal Management stated, this formula should be considered of, "Strategic National IMPORTANCE."

"Viro Spectrum Shield" HAS BEEN TESTED by a Federally Accredited Laboratory and has been successfully proven to inhibit C-19 Virus in vitro. VSS WAS SPECIFICALLY TESTED and found to be effective against the C-19 Virus as well as the A/H1N1, A/H2N3, and the B/H2N3 viruses... NO ONE ELSE CAN MAKE THAT STATEMENT. Lab testing clearly indicates that VSS has Broad-Spectrum Antiviral Capabilities. Additionally... infected people with serious flu-like symptoms, including those who have been tested positive for the C-19 Virus, have experienced significantly improved health and reduction of symptoms, usually in 24 to 48 hours or less. Documented Testimonials and Accredited Lab results speak for themselves, no other claims are made. All information on this page was provided by Viro Spectrum Shield.


Member discount code will appear under the logo when logged in