MEMBERS RECEIVE A 10% DISCOUNT ON ALL PURCHASES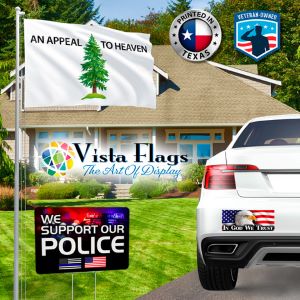 FEATHER FLAGS, VINYL BANNERS, YARD SIGNS, BUMPER STICKERS, T-SHIRTS, MAGNETIC GARAGE BANNERS, A-FRAME SIGNS & MUCH MORE

Most of our products can be completely customized to suit your needs. FREE design help is included with each custom product purchase. If you have an idea, we can make it happen.

Whether you need an advertising flag or sign for your business, a vinyl banner to celebrate a special occasion, or simply something fun to put on your car or truck, Vista Flags has you covered.

Founded in 2006, Vista Flags is a full-service flag and sign shop. Originally started as a reseller of telescoping flagpoles for RVs, we were one of the first companies to offer the large feather or sail flags you see everywhere today. With the massive success of selling feather flags online, the owner of the company began looking at ways to expand our product line to offer added convenience to our customers. We started purchasing equipment to make our products in-house, on our own time. This allows us to continually add new and unique product designs that no other company offers. We have a full range of cutting and printing equipment that allows us to print the bulk of our products at our shop in Abilene, TX. At Vista Flags, we always take that little bit of extra time to separate our designs from the rest of the pack.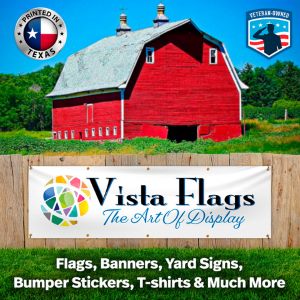 National Business with a Local Touch

Vista Flags offers unparalleled customer service and guidance. We regularly consult with our customers to help them choose the best product for their individual situation. We always go the extra mile to make sure they are happy with the design they are getting. Every job matters to us, no matter how small.

We are a tight-knit, veteran-owned, small business that believes in God, small government, and Freedom and Liberty for all!


Member discount code will appear under company logo when logged in