Fight the Woke Agenda with Your Purchasing Power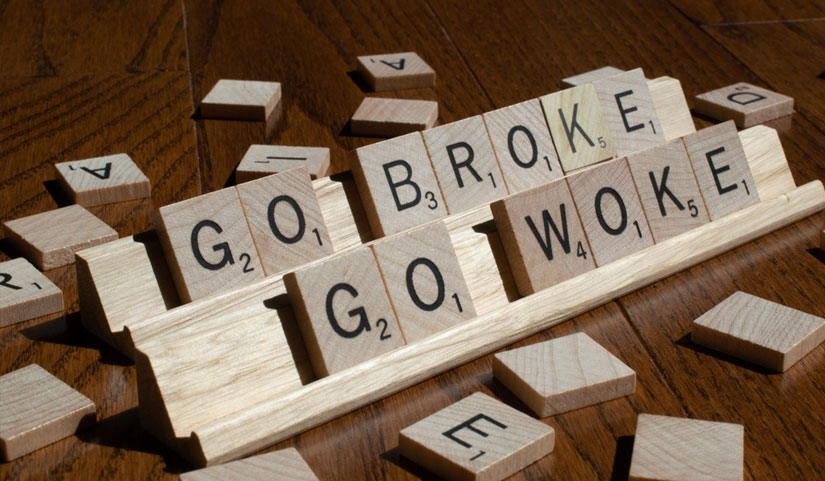 A recent article from Issues & Insights published some stunning data on how Americans are pushing back on purchasing from "woke" companies. They took a nationwide poll of 1,358 adults to understand how Americans feel about the recent actions of companies like Anheuser-Busch, Disney, Target, the Los Angeles Dodgers and major universities and this trend of corporate social activism. It has already been revealed that these actions have caused severe damage to the reputation and financial stability of these institutions.
It's no surprise that poll results show a resounding distaste for companies pushing their adoption of DEI social and cultural issues onto their customers, fans and students. As a matter of fact, the polls show that almost half of all Americans oppose social activism. Here are the results of this nationwide I&I/TIPP poll taken on May 31-June 2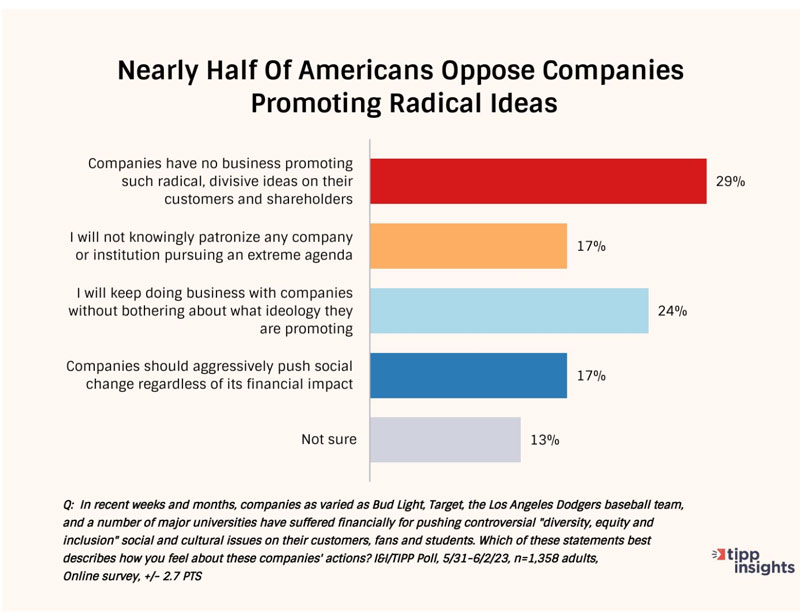 To summarize, 46% of Americans opposed the trend toward corporate social activism, compared to just 17% who supported it. But a substantial segment, 29%, expressed indifference.
When digging a little deeper, it's no surprise the breakdown of those who are for and against these practices. However, it's worth noting that there are even segments of historically left-leaning groups such as the gay population who oppose these practices. Newsweek recently noted, "Referring to the children's clothes on display at Target, Gays Against Groomers, which describes itself as an 'organization of gays against the sexualization, indoctrination and medicalization of children,' wrote: 'They are indoctrinating and grooming them with LGBTQ ideology. It is highly inappropriate and disturbing.' "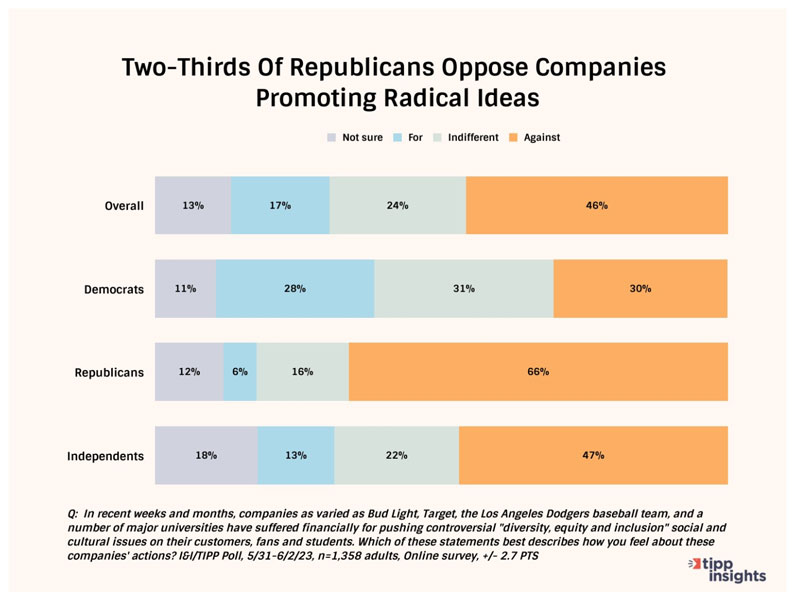 These companies are losing money, losing customers and fans, so why do many continue advancing these practices? It's all about the Environmental, Social and Governance (ESG) scores. According to the Western Journal, these "scores" include "vague, progressive categories like 'carbon footprint,' 'social vulnerability,' 'disadvantaged or priority populations,' and 'board of Directors' diversity,' just to name a few," which all point back to the DEI movement.
That means that if you score too low on the ESG index, your stock may be shunned by major investment funds. Of course, this is completely counterproductive to the basic fiduciary responsibilities of maximizing profits, which is the goal of every publicly held company.
The good news is that people are starting to push back and make a difference.
"What is changing now, executives and corporate advisers said, is that conservative groups and political leaders are pushing back against companies more forcefully," the Wall Street Journal wrote recently. "Consumers are also more openly expressing frustration that companies are airing views in ways some don't welcome."
Shareholders are feeling the pain now as their stocks continue a declining trajectory. They are also punching back on the woke agenda. The Wall Street Journal recently observed that "...the votes were abysmal for climate activists."
It's hard to believe that the phrase "get woke, go broke," was coined nearly five years ago, but currently more relevant than ever. The author of that little slogan surely knew what was coming. So what options are there for consumers today? You can start by using your wallet to continue pushing back on the woke agenda by shopping with Mammoth Nation. At Mammoth Nation, America's Conservative Marketplace, people can shop online from fully-vetted, American merchants that provide major discounts to its members. With thousands of everyday products available at your fingertips, you don't HAVE to rely on the "woke" establishment retailers anymore. Join today and use your purchasing power to meet your needs while enjoying discounts from merchants who share your values.