Joe Biden Impeachment Inquiry – What's it all About?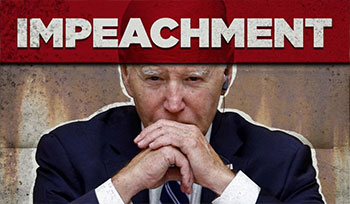 No—hell hasn't frozen over yet, but there could be a shift in the political winds. U.S. House of Representatives Republicans will open an impeachment inquiry into Democratic President Joe Biden after months of investigations of his son Hunter Biden's foreign business dealings. Republican House Speaker Kevin McCarthy said on Tuesday that a House Oversight Committee investigation so far has found a "culture of corruption" around the Biden family.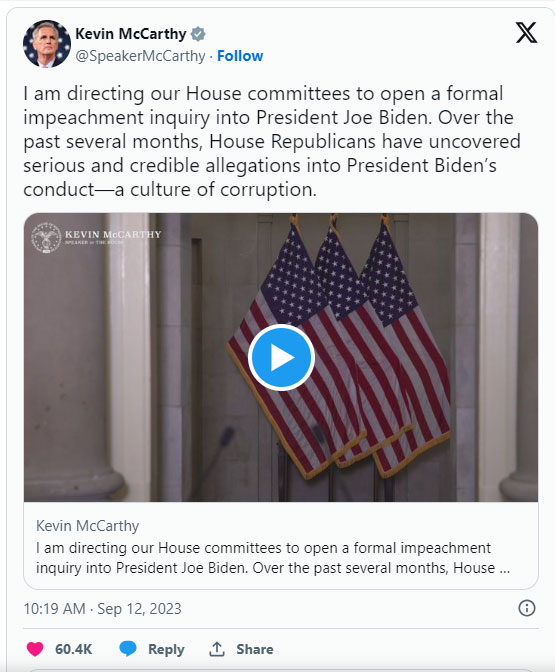 What is an Impeachment Inquiry?
An impeachment inquiry is a formal step that can precede a House vote on whether to approve articles of impeachment and eventually a trial in the Senate.
The U.S. Constitution empowers Congress to impeach federal officials including the president for treason, bribery and "other high crimes and misdemeanors." A president can be removed from office if the House approves articles of impeachment by a simple majority and the Senate votes by a two-thirds majority to convict after holding a trial.
Remember, Donald Trump was impeached twice during his presidency. In 2019, the House voted for an impeachment inquiry before his first impeachment charging him with abuse of power and obstruction of Congress. The second one didn't even require a full impeachment inquiry before bringing impeachment charges in the final weeks of his presidency following the Jan. 6, 2021, Capitol protest.
This proves that this 'impeachment inquiry' step doesn't necessarily have to be taken in order to impeach.
What Happens Next?
The Impeachment Inquiry will give congressional investigators greater authority to investigate the president, including issuing subpoenas for documents and testimony that can be more easily enforced in court. Of course, the left-leaning media is in high-spin mode, with the New York Times stating, "Republicans claim they have unearthed evidence of wrongdoing by the president and his family that could rise to the level of high crimes and misdemeanors. In fact, there's little to back up their allegations."
Apparently, the New York Times considers the mounds of evidence uncovered by the Oversight House Committee as "little." Kyle Becker (@kylenabecker) nicely lays out 22 pieces of evidence obtained by this committee:
Hunter's business partners & associates met in the White House over 80 times when Biden was VP.
Biden on the phone call with Hunter's business associates at least 20 times as VP.
Hunter taking trips to at least 15 countries when his dad was VP, and subsequently meeting with business associates on multiple occasions.
Joe Biden meeting IN PERSON with Hunter business partners and a Moscow mayor's wife who subsequently wired $3.5 million to Hunter's firm and then avoided Russian sanctions under his presidency.
Joe Biden meeting with Burisma executive Vadym Pozharskiy in 2015 which prompted his turn on the Ukrainian prosecutor's office.
Joe Biden was "the brand" behind Hunter's influence-peddling operation.
Hunter Biden cashed in on his father's name to the tune of millions of dollars.
Joe Biden used three different pseudonyms to exchange official government information with Hunter Biden: Robert L. Peters, Robin Ware, JRB Ware.
A "trusted" and "reliable" source in the FBI provided testimony that both Hunter and Joe Biden participated in a $5 million international bribery scheme.
There are bank records and shell company statements showing multiple suspicious transactions amounting to over $20 million to the Bidens.
And email trail shows that Hunter Biden sought '10 held by H for the Big Guy' – the Big Guy meaning Joe Biden according to multiple witnesses.
Hunter Biden described Joe Biden as an office mate and then listed Chairman Ye of China Energy Company Limited (CEFC) as his partner.
Business associate Rob Walker told the FBI that Joe Biden met personally with CEFC business members.
CCP-connected businessmen, including spies, sent millions of dollars and even a diamond to the Bidens as part of the influence-peddling scheme.
The Bidens set up elaborate methods of hiding these illicit Chinese payments.
Hunter business associates implicated that Joe Biden was involved but not to mention it because "they are paranoid."
Joe Biden wrote a recommendation for the daughter of Hunter business partner to into Georgetown.
Joe Biden met with Hunter's Mexican business associates on Air Force 2.
IRS Whistleblower investigating Hunter Biden's business affairs testified that Biden-appointed D.C. U.S. Attorney Matthew Graves refused to charge Hunter Biden in his jurisdiction and allowed the statute of limitations to pass for specific tax charges.
IRS whistleblower on the Hunter Biden case Joesph Ziegler testified how that Bidens were given preferential treatment during the Justice Department's Investigation. Both IRS whistleblowers confirmed they were not allowed to follow evidence that could have led to Joe Biden.
Hunter Biden lamented to his daughter in a 2019 text message that he was giving Joe Biden "half" his salary.
Emails between Hunter and his business partner Eric Schwerin detail bill payments for 'JRB' = believed to be Jospeh Robinette Biden – incidentally one of Joe Biden's pseudonyms was JRB Ware.
We encourage our readers to go to the Oversight House Committee's website and view all of the details of the evidence laid out above. Remember, ALL the Democrats had for Trump's impeachment inquiry was a phone call…. a "perfect" phone call.
Our Take
As much as we agree that the impeachment inquiry is the right step to take, we can't help but feel this may be too little too late. Remember in January when, most notably, Matt Gaetz and Lauren Boebert were holding out their vote for Speaker of the House, Kevin McCarthy? They wanted assurance that he would uphold his promises—they were right to do this and were vilified by both the left and the right for obstructing the vote. They were standing firm for their constituents (the people who voted them into office) like they were supposed to do as intended by our Founding Fathers.
Aah, McCarthy was performing at the highest level to get those two holdouts on board. (Brendan Fraser was sweating bullets at the possibility of losing his Best Actor nomination to this intense performance!) Gaetz and Boebert held their ground until McCarthy promised to appoint Freedom Caucus members to important committees, make changes that will make it easier for his detractors to start proceedings to unseat him, (Just one representative can call a vote to oust McCarthy; previously, half of House Republicans were needed), making tax increases and new spending easier to block and guaranteeing a vote on congressional term limits.
Well, Matt Gaetz has not forgotten these promises and held McCarthy's feet to the fire in his recent impassioned speech to Congress. And Gaetz went as far as to flirt with the idea on Twitter that he would partner with Democrats to have McCarthy removed. Earlier this week, he commented on Democrat Rep. Eric Swalwell's Twitter page, "If I make a motion to remove Kevin, how many Democrat votes can I count on?"
Apparently, the Speaker of the House needed this little reminder that he needs to fulfill those concessions he made, or he can easily become impeached himself. But is that the ONLY reason he has issued this impeachment inquiry? OR is he getting pressure from the Democrats to conduct this activity as a way to relieve them of the dirty deed of ousting Biden so they can make way for their 2024 campaign scheme?
No one can deny that this is an amazingly captivating time in our political history. Who needs those Hollywood writers (currently on strike) when there's this kind of drama happening right before our eyes? And maybe the famous blues-singer Nancy Wilson was merely looking into the future when she crooned way back in 1963:
Joey, Joey, Joey Joey, Joey, Joe
You've been too long in one place
And it's time to go, time to go
Joey, Joey, Joey, Joey Joey, Joey