Record-Breaking Illegals Entering the U.S. – How Many is Enough?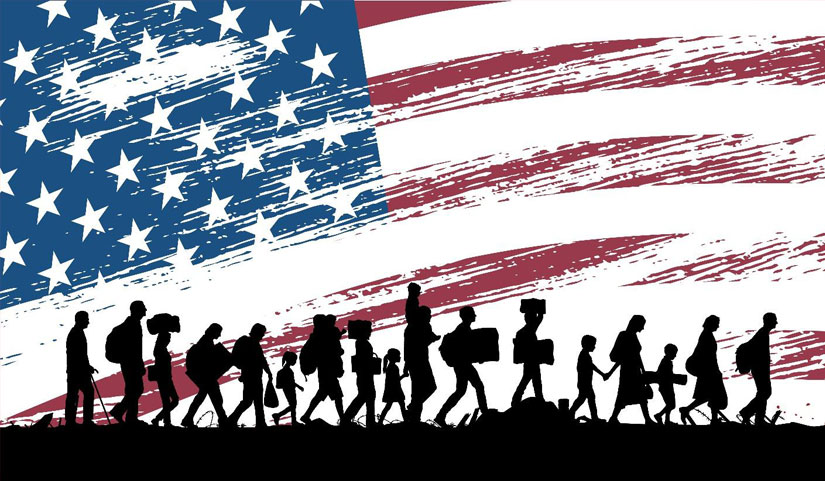 The numbers are in for the month of August. According to U.S. Customs and Border Protection, 304,162 people entered our country illegally—a new record. To put that into perspective, it's the same number of ALL who crossed over illegally in the year 2017, and more than the entire population of Pittsburgh.
It's ironic when you recall that just a few months ago, Biden's team issued a press release claiming that their administration's plan is 'working as intended.'
"Since the CDC's Title 42 public health Order lifted and the Biden-Harris Administration's comprehensive plan to manage the border went into full effect on May 12, DHS has continued to experience a significant reduction in encounters at the Southwest Border," the press release said. "The Administration's plan is working as intended."
What exactly is 'intended'?
Two weeks ago, press secretary, Karine Jean-Pierre stated that "The president has done more to secure the border and to deal with this issue of immigration than anybody else. He really has."
Who exactly does she think believes this bald-faced lie? Even Democratic politicians are pushing back as they are facing devastating effects from the masses of illegals being brought to their cities and states.
The Daily Signal recently reported that "Democratic leaders in Colorado, Illinois, Massachusetts, New York, Texas, and Washington, D.C., have declared states of emergency in response to the border crisis that occurred after President Joe Biden took office."
You know it's really bad when the pro-Biden New York Times is even reporting on the scale and impact. Just look at these headlines from recent stories they ran:
"Officials Scramble to Respond as Migrants Overwhelm Texas City"
"Influx of Migrants Exposes Democrats' Division on Immigration"
"One Day on the Border: 8,900 Migrants Arrested, and More on the Way"
"Unlawful Border Crossings Are Rising Fast"
"Eric Adams Asserts Migrant Crisis Will 'Destroy New York'"
As a result, Jean-Pierre has started getting tougher questions about the border crisis. But even she is having difficulty coughing up her usual lies. Consider these recent exchanges with reporters:
How many people coming into this country illegally is enough for President Biden?
MS. JEAN-PIERRE: Say that last part.
Q: How many people come — how many people illegally coming into the United States is enough for President Biden's administra- —
MS. JEAN-PIERRE: I don't what that — what do you —
Q: Well, five point —
MS. JEAN-PIERRE: Enough for what?
Q: Five point nine million people have — have been encountered —
MS. JEAN-PIERRE: I know —
Q: — illegally at —
MS. JEAN-PIERRE: I know the numbers, but enough for what?
Q: Enough — just to stop the flood.
Jean-Pierre proceeds to rattle off talking points of the day:
"The President has done everything and is going to continue what — to do what he can, without the help of some Republicans on — in — in Congress to deal with this issue."
"This is a problem that's been around for some time now — for decades — a broken system."
She then pulls out the 'blame the Republicans' card, saying "The Republicans put up a continuing resolution that actually reverses the work that the President is trying to do — makes it — the situation worse. That's what they were trying to push."
Enter Fox News' Peter Doocy, with a question that she simply shut down.
Q: So, what do you call it here at the White House when 10,000 people illegally cross the border in a single day?
MS. JEAN-PIERRE: So, what do you call it, Peter, when GOP puts forth a — wait, no —
Q: Asking are you —
MS. JEAN-PIERRE: No, no, no, no, no, no, you can't —
Q: Karine —
MS. JEAN-PIERRE: I'm answering.
Okay, we're going to move on.
Doocy repeated his question the next day, and here, after a day spent thinking about it, and after her litany of lies, nervous utterings and canned talking points, she ended up pointing the finger at the Republicans again!
"You had Speaker McCarthy and the Republicans in Congress who continuously — continuously take step(s) to undermine what is currently happening, trying to undermine getting border security."
Trying to blame this crisis on Republicans is quite rich. First, Biden had two years with Democrats controlling both the House and Senate. During that time, they passed – with zero Republican votes – trillions of dollars in new spending. If Biden had wanted to tackle border security with that money, there'd be zero illegal border crossers today. Second, if President Donald Trump could get the border under control without Congress, what is Biden's excuse? (Or is that part of the 'intended plan'?) Biden renounced all of Trump's policies as soon as he could. Here are the results: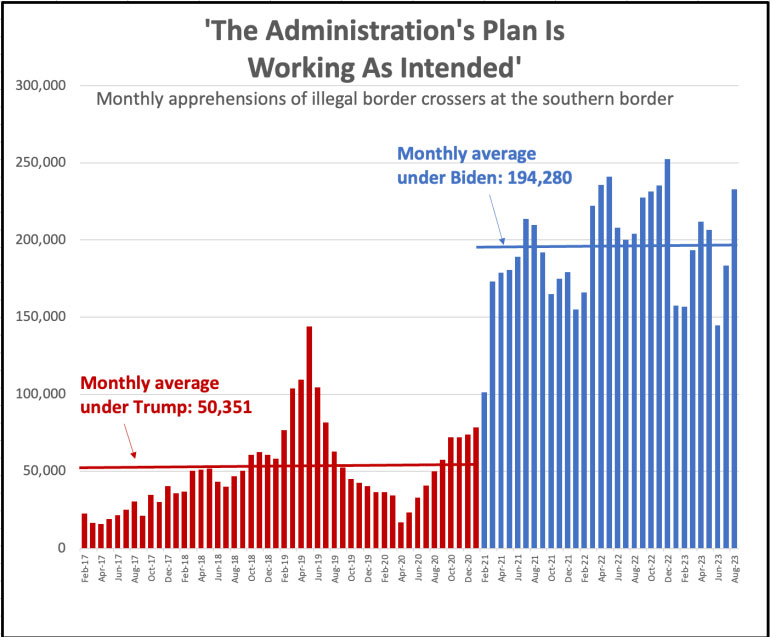 If Biden wanted to get control of the border, he could do so today. He just needs to reinstate Trump's policies.
To read the original article from Issues & Insights, click here.