Thanksgiving—Not Just About the Turkey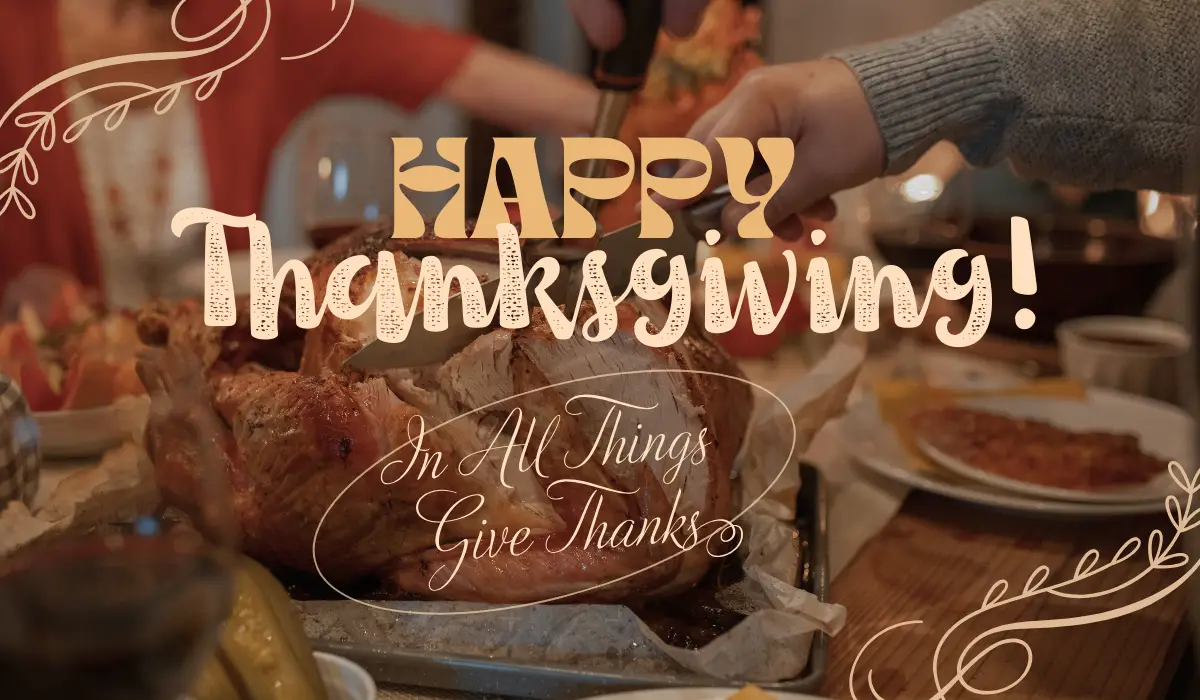 There's a women's Bible Study from Priscilla Shirer called Armor of God. In it, she asserts that we are in a war—the fight for our life, with the real enemy scheming against us continually. She advises that we become 'armed and dangerous' by putting on the full armor of God, which includes six pieces: the belt of truth, the breastplate of righteousness, the shoes of peace, the shield of faith, the helmet of salvation and the sword of the spirit. Since we'll soon be celebrating Thanksgiving this year, we thought it made sense to focus on the 'shoes of peace,' because to activate peace, we need Thanksgiving.
Be anxious for nothing, but in everything by prayer and supplication with thanksgiving let your requests be made know to God. And the peace of God, which surpasses all comprehension, will guard your hears and your minds in Christ Jesus (Phil. 4:6-7)
The Shoes of Peace
You're probably scratching your head, wondering what "shoes" have to do with Thanksgiving. Well, within Ms. Shrier's book, she points out that "Of all the things the enemy seeks to steal, kill, and destroy in your life, peace is almost always at or near the top of his list." So, peace is the target, and the 'shoes of peace' is how we protect ourselves from it being stolen.
Peace is also what keeps us protected from other vulnerabilities. It not only guards us, but also, the shoes of peace guide us so we can move forward. And who doesn't love a good pair of shoes, right? So, connecting this section of the study to Thanksgiving just made perfect sense. Here is a portion of the study guide:
In Jesus Christ we have peace with God.
Thanksgiving activates peace.
Trust fuels Thanksgiving.
Thanksgiving activates peace.
So, we need Thanksgiving to activate peace. This message needs to be shouted out to the universe. Just think of all of the wars and negativity we are experiencing presently. They could all be eliminated with just a small amount of Thanksgiving or gratitude. It's not rocket science—most of us are taught to say 'thank-you' from the time we start uttering our first words. A child receives a cookie, and Mom says, "what do you say"? Child looks up and says, "dank you." Even with the recent Halloween holiday—kids come to the door and say, "trick or treat." We give them candy and many will respond with a "thank-you." We are taught to say 'thank-you' when we receive something.
True Thanksgiving
But merely saying 'thank-you' is not enough. We have to BE thankful. Just as the early pioneers were thankful to be sharing a meal with their native American brothers and sisters. Both sides were thankful—they both appreciated this mutually shared experience of giving. THAT is the true spirit of the Thanksgiving holiday. Sharing a meal with family and friends and the fellowship and love that is shared is the most important aspect of this day. It doesn't matter if it's a 12-course sit-down dinner or a buffet or sharing a turkey sandwich. We should be thankful in all situations.
This is not easy—especially with family histories and conflicts that can easily surface when old memories come up, or when we become triggered by a family member who you might not see eye-to-eye with. And in today's divisive environment, some of these conflicts can be even more explosive. Many of us may not agree with a family member's politics or lifestyle. There may be past grievances that were never really forgiven. There are so many factors that can steal the peace. This is where thankfulness can really become powerful.
When someone speaks out loud that they are thankful for something, everyone listens. Why is that? Probably because we are so used to most people complaining about something or whining about what they don't have, that when someone actually speaks the language of gratitude, it gets attention. It's always a great tradition at the Thanksgiving table to go around one-by-one and have everyone speak about what they are thankful for. It forces the 'Debbie Downers' in the group to focus on something positive. Some folks may be surprised by what they hear, and it can spark some new feelings toward someone who may ordinarily be more of an "Eeyore." It can up open doors that may have been closed, sometimes for many years. It can activate peace.
Time for Turkey
Of course, through all of this, there IS time for that turkey you've been craving all year. And we at Mammoth Nation are working on our menus and looking forward to gathering with our family and friends. To all of our members, we wish you a very blessed Thanksgiving, and want to remind you that there's still time to order any garnishes, spirits or special spices you may need for your feast. If you're not yet a member, we invite you to join our conservative marketplace so you don't have to purchase from ungrateful retailers! We are truly thankful for all of our members and subscribers. Happy Thanksgiving!