What you can do about election integrity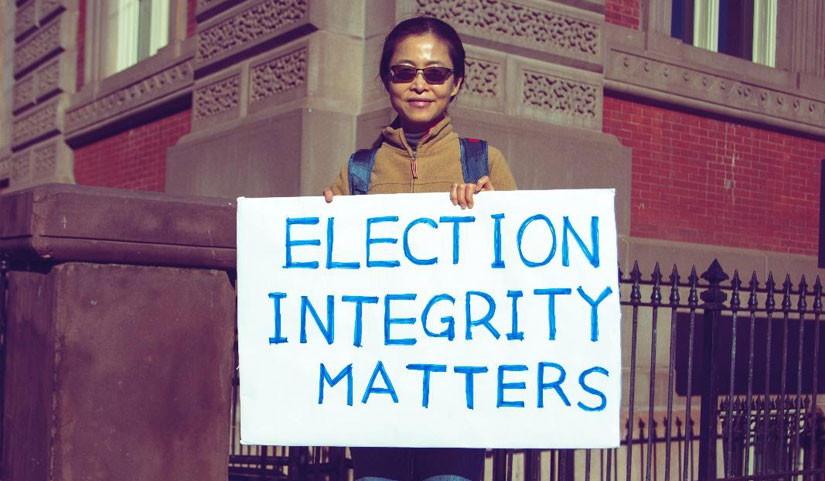 Faith in American elections is at an all-time low. More people than ever are agreeing with President Donald Trump that the 2020 election was indeed stolen. According to a recent CNN Poll, 69 percent of Republicans and Republican-leaning independents believe that Biden is illegitimate, up from 63 percent earlier this year.
There's been plenty of evidence to back up those claims, but you wouldn't know it watching mainstream media. One recent smoking gun comes from conservative news site The Gateway Pundit , which reported in late August that a fraud operation called GBI Strategies with links to 70 organizations in 20 states tied to the Biden campaign. Gateway Pundit reported that the city clerk from Muskegon, Michigan, witnessed a woman dumping between 8,000 and 10,000 voter registration applications at the city clerk's office, among other signs of fraud.
Why Election integrity matters
Voter fraud and mail-in ballots are critical issues because the fate of elections and the direction of the country hinges on that, Texas Attorney General Ken Paxton recently told Tucker Carlson in an interview on Carlson's X Channel. In Paxton's historic lawsuit in the Supreme Court in 2020, he argued Georgia, Michigan, Pennsylvania and Wisconsin used the Covid-19 pandemic as an excuse to break their own state and federal election laws, and thus unlawfully pushed through last-minute changes that allowed for a flood of unlawful ballot applications, and also ignored the laws regulating how ballots were received, evaluated and counted. "When you change it to mailing it out to everybody, we have no idea; we have no signature verification; we have no idea who's voting," Paxton told Carlson. "So, when they say, you can't prove voter fraud--that's the system that [liberals and RINOs] like because it becomes difficult or impossible to prove fraud when ballots are mailed in."
The bright spot is that Texas restricts mail-in ballots to specific groups unable to get to the polls and requires signature verification. However, on a national level, liberals are pushing for mass mail-in ballots, arguing it's good for democracy when many election integrity experts say the opposite is true. Check out the mail-in ballot tracker from the National Conference of State Legislatures here. In another step in the wrong direction, Pennsylvania Governor Josh Shapiro just announced that in a change to the driver's license renewal process, applicants would be automatically registered to vote unless they opted out. Which means ballots could potentially be sent to dead voters, they could pile up at apartments where voters have since moved out of state, etc. So, what is one to do?
Get involved!
There are many brave Americans fighting for election integrity who need your help. One such organization is True the Vote, a Houston-based election integrity non-profit founded by Catherine Engelbrecht and Gregg Phillips. It provides election information by state as well as news updates through its Rumble Locals updates. It is also a great resource for getting involved.
For instance, it offers a Tool Kit for Sheriffs to educate them about their rights and how to fight voter fraud through such efforts such as drop box surveillance.
Want to help scrub the fake voters off the rolls in your area? An estimated 24 million voter registrations are invalid or significantly inaccurate, according to a 2012 Pew Center Report. True the Vote provides the IV3, (Independent Voter Validation Verification) app on its site to help you do so.
Getting back to paper ballots
There are countless other election integrity groups, large and small. You won't find them featured favorably on mainstream media. Look for them on places such as Frank Social, Gettr and Twitter. Beverly Foley, founder of Secure Your Vote Texas, has worked tirelessly since 2020 fighting for election integrity in Texas, filing open records requests and even doing a massive audit of the misprinted 2020 mail-ballots from Tarrant County, which has the third-biggest population in the state. (As an aside for anyone watching the election fraud, Runbeck Election Services, famous for its involvement in the Arizona 2022 election) was responsible for misprinting the ballots, which forced election workers to adjudicate the ballots or "recreate the ballots," based on how they think the voter intended to vote. Hence the reason for the audit.)
Foley identifies several areas that could drastically improve voter integrity. She currently is collecting signatures to move back to hand marked and hand counted paper ballots in every county. Most Texas counties' paper ballots are currently machine marked. She'd also like for counties to ditch electronic poll books for paper poll books. Voting Centers, which enabled voters to vote anywhere in some massive counties, throughout early voting and on election day, is something else she'd like to see revert to precinct only voting. While convenient, these voting centers make it impossible for local election judges to reconcile the votes from their local precincts because voters could literally be voting in another town or city 40 minutes away, Foley says. She has other ways to get involved through an Annual Voter Roll Clean-Up and Canvass (Audit) Voter Roll Annually by Citizens of the County.
"We as citizens of our counties must be the ones to have 'oversight' of our elections," Foley says. "We need to be the ones who decide an election is 100 percent accurate."
She points to the tools available to validate an election, including reconcile the voting locations to published count, count ballots to compare to published count, compare voter rolls' vote history to published voter count. Every citizen in a county should be offering to be an Election Judge, An Election Clerk, a Poll Worker, volunteer on an oversight committee, Foley adds. "If you don't offer to help, a person will be hired through a temporary agency to work the elections. It's up to us to take control and validate our elections."