MEMBERS RECEIVE A 20% DISCOUNT ON PURCHASES (EXCLUDES AFFILIATE PRODUCTS)
Discounts on the most complete, holistic wellness system available, the BillyStix Workout!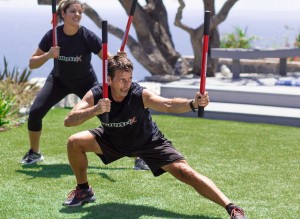 Ultimate Health was created almost 20 years ago. We are a Wellness and Fitness Company. We created the Complete Wellness System and the BillyStix 6-Part Workout. The Complete Wellness System is a combination of different health and wellness modalities combined and integrated to improve overall health from a holistic perspective. We combine Personal Training, Massage Therapy, Nutrition, Herbs, Nutraceuticals, Aromatherapy, Breathing Exercises, Self-Defense, and Detoxification to attack any health issues you may have.

BillyStix is a 6-part workout using weighted sticks. Each workout focuses on a different area, but every workout is still full-body. We do upper body, lower body, core, yoga, cardio, balance, and coordination. Since we are working multiple muscle groups together, it is always a cardio and full-body workout. It's a bit more challenging than it looks!


We have workouts for all levels, so there is no need to worry. Most of the workouts are about 30-minutes long, but some can go up to 60-minutes. Our classes include Dumbbell Workouts, Bosu Ball Workouts, Full Body Workouts, Upper and Lower Body workouts, Cardio Workouts, Abs & Core Workouts, Kickboxing Workouts, Bootcamp Workouts, Circuit Training Workouts, Functional Fitness Workouts, Yoga, Balance, Stretching, & Breathing, Seated Workouts, Seated Yoga, and more. And we have an Exercise Lab if you need some guidance on how to do some of the exercises.

And the best part is that Mammoth Nation members get a 20% discount on all products and services (except for affiliate products.) Give our BillyStix a try for a fun new workout, or join us online for live and/or recorded workouts!


Member discount code will appear under company logo when logged in