US Flags - Military - Historical - State, Territories & Commonwealth Flags - Flagpoles & Hardware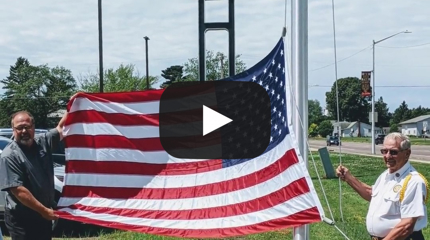 High-quality flags and flagpoles made in America by Freedom Flag and Pole! Thank you for visiting Freedom Flag and Pole. We are a family-owned business located in beautiful Eau Claire, Wisconsin. Freedom Flag and Pole began in 1991 at the beginning of the Gulf War, with me, Tom Geary, my wife Ann, and our kids Katie, Amy, Jenny, Daniel, Mariena, Sean, and Peter. Nate, a son-in-law of mine, is also now a full-time employee. Freedom Flag embodies the truest meaning of a family business; it is how we have put food on the table for over 30 years!
As Americans, we are proud of our heritage. The United States is unique in that our political order was established with the understanding that our government receives its powers from the consent of the people, and people receive their inalienable rights and freedoms from the hand of their Creator. Drawing upon this principle, we chose the name of our company, Freedom Flag and Pole LLC.
Don't just buy a flag; honor our country. Choose Freedom Flag and Pole as your every-need flag and flagpole supplier.