Conservative Event "A Seat At The Table" An Inspiring Success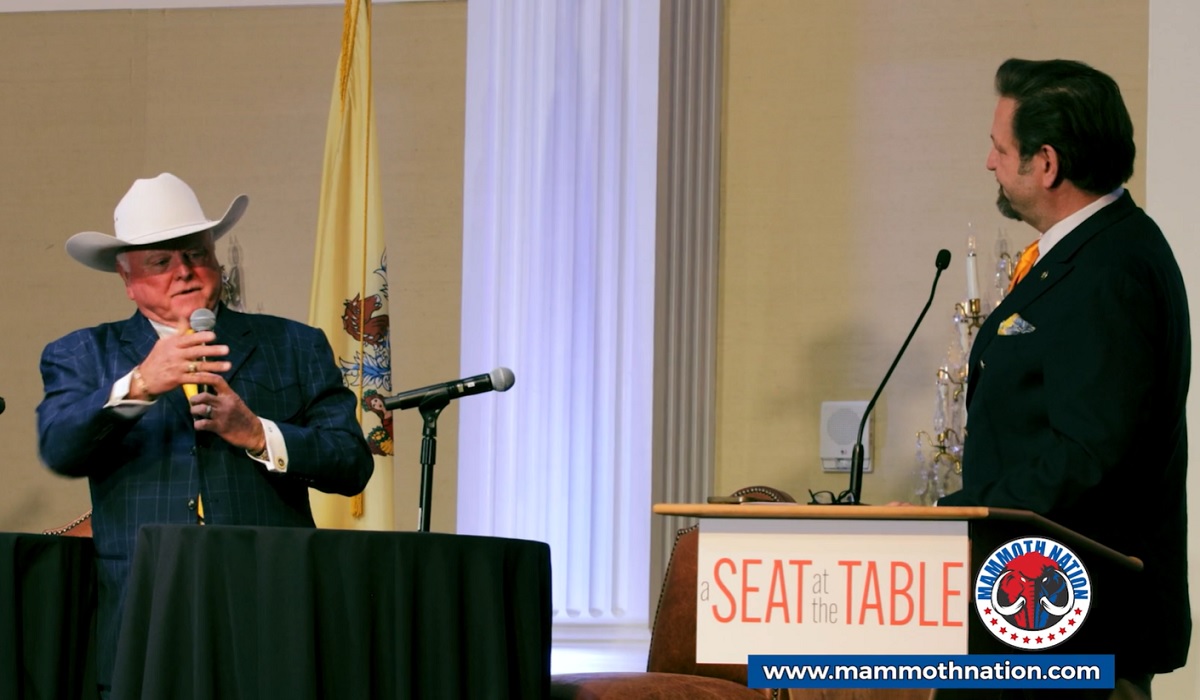 In late April Mammoth Nation sponsored and attended a highly publicized Conservative event in one of the Blue-ist states in America, New Jersey. The two-day event named "A Seat at the Table", featured dozens of nationally recognized Conservative television, media and social media personalities. Conservative speakers like radio host Sebastian Gorka, China expert and best-selling author Gordon Chang, and friend and colleague of Mammoth Nation Kyle S. Reyes were just a handful of the speakers to enlighten the Conservative filled venue.
AND IT WAS AWESOME!!
From the moment we stepped into the ballroom, a positive energy overwhelmed us that was undeniably related to being among friends we had not met yet. Knowing that we could let our guard down and know that the stranger to the left and right of us was like-minded was an enormous relief.
As many of you can relate, sometimes we wonder if the person in front of us is one of those woke activists who's going to impose their absurd beliefs on us if we simply just try say hello.
However, at the Seat at the Table event, we didn't have any of those concerns. In fact, we were elated knowing that everyone around us believed in the same hot-button topics in America like the Constitution, banning abortion, freedom, the second Amendment, and so on.
And we haven't even discussed how great the speakers were.
The event started with MC Bill Spadea, the morning radio host of New Jersey's largest radio media company 101.5. Spadea is a strong Conservative who's been fighting for change in New Jersey for years.
"Today is all about recognizing and celebrating the concept of freedom, the concept of liberty, the idea that in New Jersey, we have a state motto called liberty and prosperity, and it's about time we get back to that," Spadea told the crowd in his opening speech.
"I love the name of this gathering, a "Seat at the Table". If you don't have a seat at the table, you know what that means? It means you're probably on the menu," Sid Miller, Commissioner of Agriculture, Texas, told the audience.
Sebastian Gorka also told the audience, "America is the little town in New Hampshire where we vacation. America is the countryside of West Virginia where we spend our weekends. America is everywhere outside of D.C., New York, Boston, San Francisco, LA. That's America!" He continued, "And the people in those parts of the nation are the ones who built this country and who will never give."
Renewed Spirit
The event was not just a great event packed with influential conservative personalities, it was a symbol of our commitment to America. It was an inspiration and a reminder that there ARE good people in America who want what we want.
It renewed our sense of patriotism, but more importantly, our sense of duty that we, our members, vendors and those who are simply reading this that we must always fight. We must always fight for what is right and can never waiver.
Our great country deserves it.
- Mammoth Nation
Have you read these other articles?
Biden's new home ownership buying program reeks of socialism.
Small business is the heart of capitalism and our economy.