Is Our Homeland Security Chief a Felon?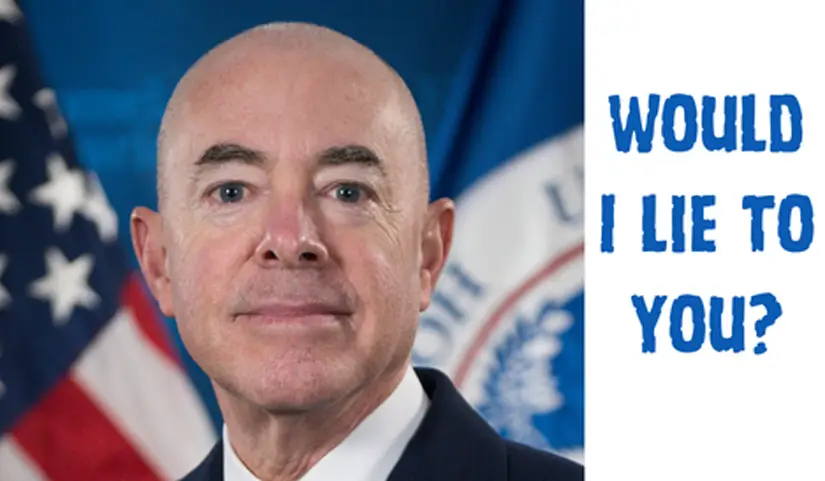 In case you didn't realize it, President Biden recently decided to do a complete 180 on the border situation. You heard that right—Biden is now pushing to start construction on the wall after expounding on open borders since the minute he took office. Well, maybe you didn't hear about this because he announced this decision at a time when the world is consumed with the tragic attack of Israel. Don't you love how this administration just slides these things through in the shadow of major world events?
It also appears that Homeland Security Chief, Alejandro Mayorkas, may have just admitted to repeatedly lying to Congress under oath. (How could that be? Do politicians actually lie?) Let's review:
On Aug. 5, Mayorkas announced that he planned to waive more than two dozen federal statutes so that construction could immediately begin on 20 miles of border wall in Texas.
Why was he taking this step now? Mayorkas makes it perfectly clear:
"There is presently an acute and immediate need to construct physical barriers and roads in the vicinity of the border of the United States in order to prevent unlawful entries into the United States …. In order to ensure the expeditious construction of the barriers and roads in the project areas, I have determined that it is necessary that I exercise the authority that is vested in me … I hereby waive in their entirety … all the following statutes." (Read the entire statement here.)
Wait—what? "Presently," "immediate need," "to prevent unlawful entries," "expeditious construction." That sort of language would suggest an immediate crisis, wouldn't it?
But why now? This makes no sense since over the past three years he reassured the nation, over and over, that the border was secure.
We have the receipts. The Washington Examiner notes just a few instances:
'The border is secure,' Mayorkas told us in April of this year, a month that included nearly 212,000 crossings. 'Our borders are not open,' he said a few weeks later in May after another 206,000 crossings. He said it in January of this year (157,000 crossings), May of last year (241,000 crossings), and March 2021 (his third month on the job, when border crossings nearly doubled to 173,000).
As recently as this May, Mayorkas was bragging that there'd been "a 50% drop in the number of encounters versus what we were experiencing earlier in the week."
Ok, so what? Politicians lie to the public all the time, right?
True—but there is a law against lying under oath to Congress. And Mayorkas repeatedly testified – emphatically and unreservedly – that the border is secure. Here are just a few samples:
By the way, in case you were wondering, federal law officially defines "operational control" of the border to mean: "The prevention of all unlawful entries into the United States, including entries by terrorists, other unlawful aliens, instruments of terrorism, narcotics, and other contraband." (Since Biden took office, more than 6 million people have been caught entering the country illegally – a number that doesn't count more than a million "gotaways.")
So why the sudden decision to resume building a wall that Biden says isn't needed and on which he'd stopped construction as soon as he took office?
We recently ran a story that contained a I&I/TIPP poll that shows that Biden's open border policies have become a serious political problem, not just for him but for Democrats around the country.
You know it's bad when even liberal media outlets, which have up until now diligently avoided the border crisis, are acknowledging this. CNN last week ran a story headlined: "The arrival of migrants in big cities is forcing Democrats to change their immigration politics."
So since the big blue city leaders have been loudly whining about the influx of illegals, Biden has no choice but to make it look like he's doing something about this phenomenon that the mainstream media has just discovered.
But even now, the administration is trying to have it both ways.
Mayorkas himself is complaining that people misunderstood his directive.
"The language in the Federal Register notice is being taken out of context and it does not signify any change in policy whatsoever," he said in a statement. "There is no new administration policy with respect to border walls. From day one, this administration has made clear that a border wall is not the answer."
He goes on to say the administration had no choice because "The construction project reported today was appropriated during the prior administration in 2019 and the law requires the government to use these funds for this purpose … and we are compelled to follow the law."
Since when has the Biden administration ever been compelled to follow the law? So, we're left with this question: With his latest order, did Mayorkas just confess to lying to Congress on multiple occasions? Maybe the FBI could look into it.
Here is a
link
to the original story published by Issues & Insights.