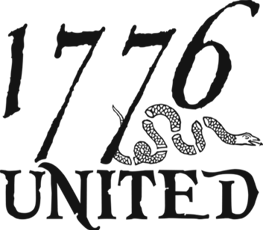 Apparel - Headwear - Drinkware
During the 2008 elections, we were looking for patriotic and stylish t-shirts to wear. Because we worked heavily in retail, we knew where to look but simply couldn't find anything. We decided this was a problem and wanted to do something about it.

Not only because we wanted pro-American t-shirts to wear ourselves, but because we had the urge to get an important message out there: loving America doesn't have to look cheesy.

Being patriotic doesn't mean you're out of touch or uneducated. You can show love for your country and its history and still be stylish. Knowing this, we set out to create the best damn patriotic clothing America has ever seen.

We created 1776 United to evoke a sense of patriotism found in our forefathers. Most have forgotten to ask themselves not what their country can do for them, but what they can do for their country.

Our dream is to inspire a new wave of patriotism that might lead to the next Greatest Generation. We aim for the clothing we create to embody the many chapters of American history. Each shirt is a cotton reminder of who we are, where we live, and where we're going.

When you wear one of our shirts, you're letting people know that you're not afraid to love your country; you're not ashamed of being an American, you're proud to be an American.