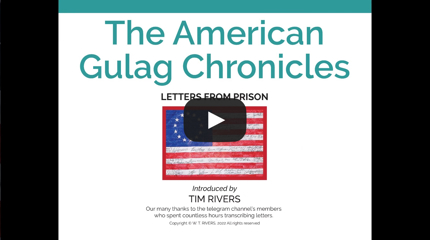 The American Gulag Chronicles organization is dedicated to educating the public about constitutional rights and the events and consequences of January 6th, 2021. The book 'AMERICAN GULAG CHRONICLES: Letters From Prison' presents an amazing and historical story of persecution, faith and perseverance through the letters, messages and Art of America's most recent class of Political Prisoners, the men and women defendants of January 6th.

In this book, in their own words, Patriots describe the real purpose and resulting chaos of that day, the brutality of a politically weaponized justice system, used against Americans simply because of their belief and faith. Here, the True story of their persecution and suffering is laid before you in a beautifully illustrated book, with words and messages of these prisoners meant for every American. It's both a warning as a cautionary tale for conservatives in America and a call to action for all True Patriots.

The purpose of TAGC INC is to spread this truth through publications and speaking events; all proceeds from these activities go to the defense and support of January 6th defendants and their families. Join the fight for truth... buy a book for a friend...