MEMBERS RECEIVE A 15% DISCOUNT ON ALL PURCHASES
The best solution on the market for carrying spare ammo securely from ExtraCarry Mag Pouch!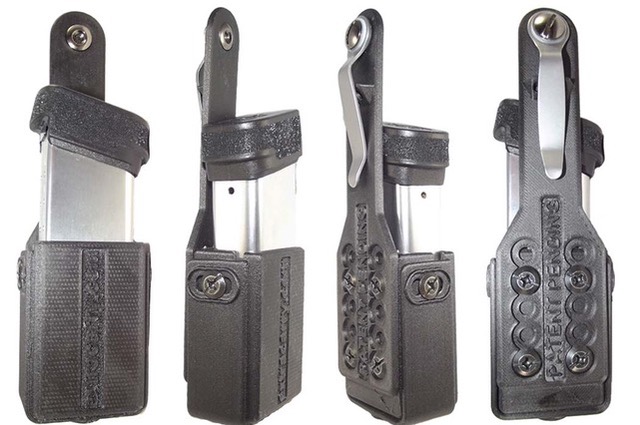 The ExtraCarry™ Mag Pouch grew out of necessity. Rick, the owner, could not find a good way to carry a spare mag concealed, especially if you wanted to pocket carry.

The goal of the ExtraCarry Team: Bring to market the best mag pouches for deep concealment, without compromising the features required to carry spare ammo securely and ready to use in an emergency. With more than a year's worth of field testing, continued design improvements and feedback from top industry professionals, we introduced the ExtraCarry Mag Pouch product line in 2015.

ExtraCarry has you covered, no matter what you carry. We offer over 140 mag specific versions and 3 universal versions that work for most magazines. The ExtraCarry mag pouches are being used by thousands of happy customers (Personal Protection, Law Enforcement, Military, Security Service and Celebrities).

Features:

•Made with Carbon Fiber Reinforced Nylon
•Concealed Carry your spare magazine in your pocket
•Looks unassuming "like a pocketknife"
•Securely locks in place
•No exposed rounds to get dislodged or compromised by items in your pocket
•Light weight and comfortable
•Ambidextrous design
•Fast access to your spare pistol magazine
•Spare magazine located in the same place every time
•Patented
•Made in the USA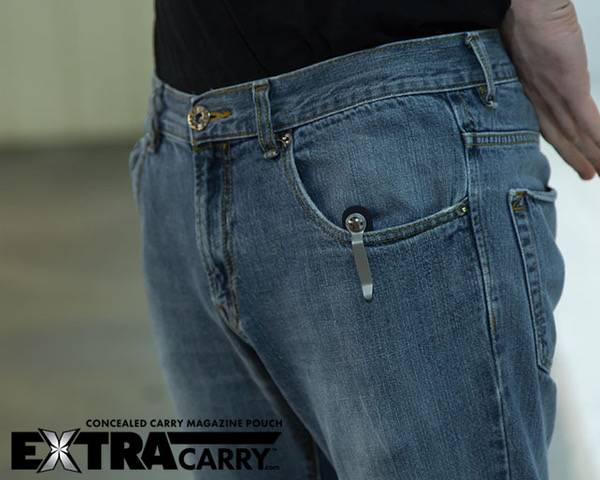 Why we think you should carry a spare magazine?

There are real reasons that support carrying a spare magazine. If you must use your carry gun in self-defense, there is always a chance that you'll need more ammo than what's in your pistol. No matter what type of pistol you are using, a revolver or auto, you can run out of ammo. The other reason for carrying a spare magazine is if you have a malfunction. All semi-autos will malfunction eventually. Many times, the only way to clear the malfunction is to replace the magazine.

Think about it. You leave home prepared every day. What if you had to engage a bad guy and you run out of ammo or need to clear a malfunction. Carry your spare magazine with the ExtraCarry™ Pistol Magazine Pouch.

At ExtraCarry, we strive to offer the best rated and highest-quality products in the world. Your Satisfaction is our Top Priority. "Old School Customer Service" is what we offer. 100% Customer satisfaction is our goal with absolutely Zero Customer Risk.


Member discount code will appear under company logo when logged in