MEMBERS RECEIVE A 10% DISCOUNT ON ALL PURCHASES
Highly nutritious, supreme quality, and delicious cacao based snacks from Good Stuff Cacao!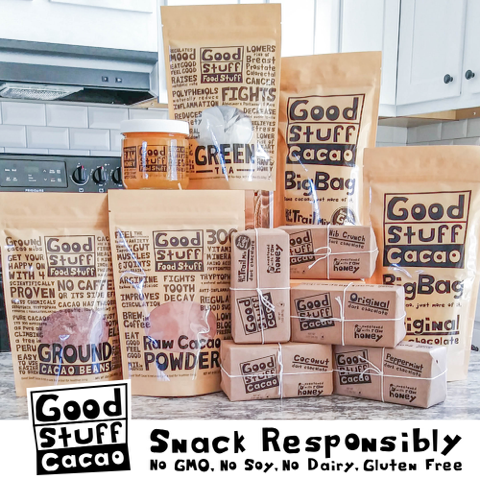 Raw, organic cacao and raw honey…that's it – just 2 ingredients in our Good Stuff Cacao ORIGINAL recipe. NO dairy, NO gluten, NO soy, NO fillers of any kind. We created 4 other varieties starting with our ORIGINAL recipe of just 2 ingredients and added nutritious, whole foods like big flakes of COCONUT. In our HIT THE TRAIL MIX we added goji berries, sunflower seeds, pumpkin seeds and Himalayan sea salt. In the NIB CRUNCH variety we added Nib – the common term for crushed cacao beans, so you get even more of the 300 nutrients that are in the cacao bean. And then for our PEPPERMINT variety we added essential oil peppermint – not just a flavoring. Each small batch is carefully handmade, even the boxes are hand wrapped and strung, we would rather employ people – not machines.

The Theobromine Cacao tree is where all chocolate begins. Chocolate, including dark chocolate, is high heat processed and 'tempered' (heated and cooled several times) and then fillers are added. Heat and processing destroys and weakens nutrients. We take the time to ensure it remains raw and minimally processed. Our cacao is fermented in the sun for 3 days, then, slowly with low heat it's roasted (that's when the chocolaty flavor comes out). We keep our temperatures 95-118 degrees – just enough to blend the honey and cacao. We use the entire bean not just the liqueur or the powder. Cacao naturally has fat – good for your brain and joints fat - along with 300 nutrients that our bodies can use.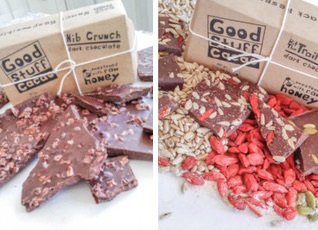 It's the highest food source of magnesium, one of the best sources of antioxidants, it has 4 "bliss" chemicals, flavonoids, enzymes, zinc, copper, manganese, trace minerals, protein, fiber,…the list goes on. Believe it or not, when you don't mess with what God has provided, you find that a snack like Good Stuff Cacao can even fight tooth decay!

Good Stuff Cacao is a family owned and run business. The founders, a homemaker and a retired police officer, had several ailments and needless surgeries, but doctors never mentioned diet as a cause and how changing it could be a cure. After they each lost an organ and still had pain and issues, they began to seek out alternative remedies, cures and diets. Along the way they discovered the power of honey and that they could enjoy cacao (chocolate) with no regrets. The thing is, it shouldn't be called "alternative," it should be called original medicine. And, a healthy diet doesn't need to be boring.

God provides, if only we will seek Him.


Member discount code will appear under company logo when logged in