Bud Light's Woke Debacle Continues To Get Interesting
The Bud Light saga from going woke continues to make headlines. It is still a hot topic among friends and families sitting around the dinner table.
Since Bud Light decided to use a trans activist as a partner and figurehead in a marketing campaign, the internet has been abuzz. Dylan Mulvaney, who was born a biological man, partnered up with Bud Light to celebrate "365 days of womanhood" - whatever that means.
Countless people across the globe, including high profile celebrities, have sworn to give up Anheuser-Busch, Bud Light and any affiliate companies for good.
Celebrities Speak Out
We weren't the only ones disappointed in Bud Light's decision to appease the woke community.
Kid Rock voiced his displeasure in spectacular fashion. In a social media post gone viral, a clearly frustrated Kid Rock approaches the camera to tell his audience, "Grandpa's feelin a lil frisky today, let me say something to all you today and be as clear and concise as possible." He then turns away from the camera while brandishing an automatic rifle, points it towards a small table containing several cases of Bud Light about twenty feet away and unleashes a hail of bullets, completely destroying the once legendary beer.
Another high profile celebrity and musician Travis Tritt announced he will boycott all Anheuser-Busch products in protest to their partnership with the trans activist.
Stephen Miller, a contributing editor for The Spectator also said, "Might genuinely be the weirdest thing I've ever seen in my life."
These high-profile Conservative voices are just a handful of many more who both denounce the partnership and to boycott Anheuser-Busch products.
Millions of Americans everywhere have followed suit and have made a commitment to boycott Bud Light and all Anheuser- Busch products. And it is starting to show.
Mega Losses
It has been recently reported that shares of Bud Light's parent company have fallen nearly 4% since March 31st. To put it another way, their value has sunk more than $5 billion (billion with a B) since their controversial partnership with the trans activist.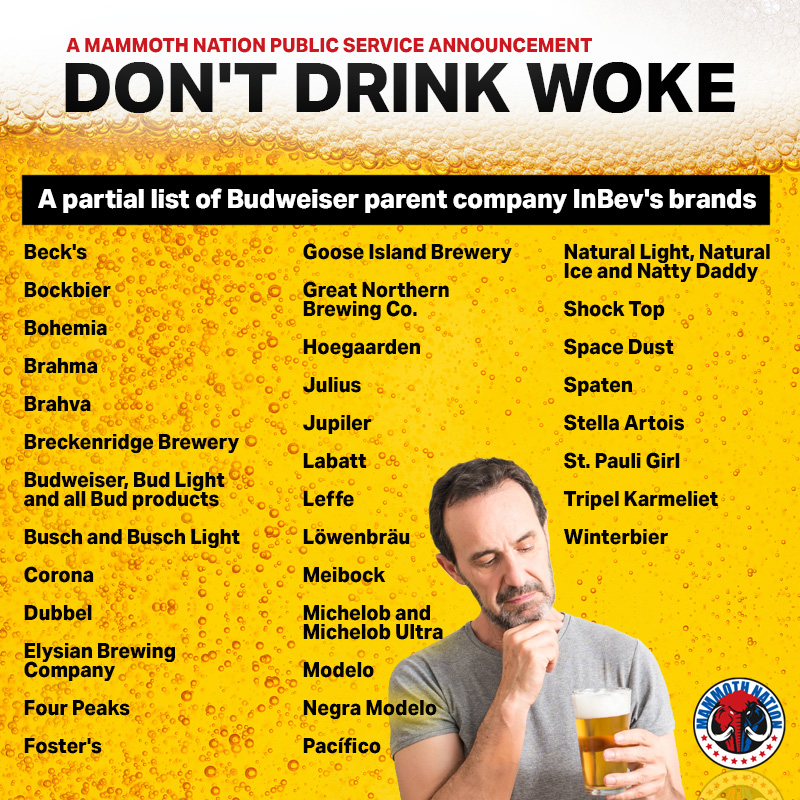 We can proudly say our Conservative values will always prevent us from agreeing with a woke agenda. It is also the main reason why we have created our online shopping platform, so you can be confident your hard-earned dollars are staying with like minded, patriotic companies.
-Mammoth Nation
Have you read these other blogs?
Are you prepared for a recession? Experts say the best way to survive a recession is through Gold and Silver. Check out our merchant Patriot Gold to get started.
Mighty Hero Homes is on a mission to get every homeless veteran off the street... and they need our help.