ALL AMERICAN DREAMERY
MEMBERS RECEIVE A 20% DISCOUNT ON ALL PURCHASES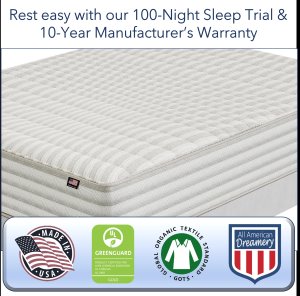 At All American Dreamery, we sell mattresses made in America with natural materials.

Our mattresses use certified organic cotton and wool to achieve the perfect combination of comfort, support and temperature management, while our competitors make their mattresses from petrochemicals and polyurethane foams.

Our mattresses are made by Americans, while those famous online brands mainly sell cheap imports that send American jobs overseas.

While the famous brands espouse Woke ideology, we're a Veteran-founded company committed to helping our veterans and first responders in need.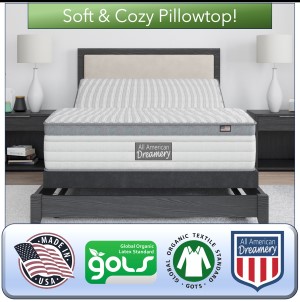 We use a special machine to compress our mattresses and deliver them right to your doorstep. They're easy to move and unpack, and your new mattress instantly expands to its full size and can be slept on immediately!

And you can rest assured knowing that our mattresses come with a 100-night sleep trial and a 10-year manufacturer's warranty.

Together we'll make American manufacturing great again and build an America that is less vulnerable and more prosperous than ever before.

Pursue your American Dream with the natural, healthy, restorative sleep your body needs at All American Dreamery.


Member discount code will appear under company logo when logged in