Chilli Seasoning Blend - Dew Chill Family-Size Can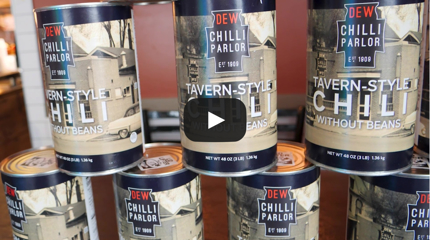 All American chilli since 1909 from Dew Chilli!
Since 1909, Dew Chilli has had a rich American history — just like our Chilli! Our story is a love story, one that is ever ongoing. It is also why we spell it with 2 L's The second L stands for Love.
The Legendary Dew Chilli comes in a 48oz (3LB) vacuumed sealed can—no refrigeration is needed until opened. The true Tavern Style Chili is all meat, flavored with our Secret Spices. Each can serves up to 6 by just heating it. Add your favorite beans, and it serves up to 16. Once opened, use what you need and freeze the rest to prepare other dishes later like, stuffed peppers, casseroles, pasta, smothered potatoes, and more. Cooks use Dew Chilli as is or as a starter to create several family and crowd-pleasing dishes.
The Legendary Dew Chilli Seasoning Blend is in a 5.25oz bottle. The seasoning is the secret blend that has enhanced dishes at home and in restaurants for decades. This secret blend of spices is not only a perfect addition to your own chilli recipe but also great on vegetables, steaks, burgers, fries, hot dogs, seafood, and more! Whether you're a chili champion or a grill master, this is a must-have seasoning blend for any American kitchen.
Bulk orders for professional restaurants and retail establishments are available for both cans of Dew Chilli and our Dew Chilli Seasoning Blends.