MEMBERS RECEIVE A 20% DISCOUNT ON ALL PURCHASES
High quality footwear for the hard working American from Gravitas Footwear!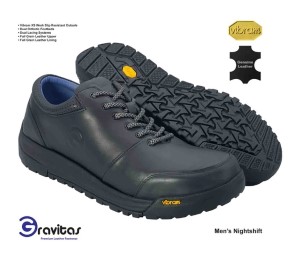 As the Brand name implies, Gravitas Footwear was created with a serious purpose and intent in mind from day one. Our Mission is to produce the best footwear ever made for hard-working Americans who spend 40 - 60 hours or more on their feet every week. We design and produce footwear for a variety of jobs in all weather and conditions that workers must deal with on the job.

We use only the highest quality materials and components, including soft full grain leathers used on the uppers and linings, the best Vibram slip-resistant outsoles ever produced, orthotic footbeds included in every pair that provide the best arch support in the industry, and a convenient lace locking system that dials in the lace tension. At the same time, it keeps the laces clean and off the floor. Our soft full, grain leathers are all naturally anti-microbial, so the shoes will never stink and will last throughout the year.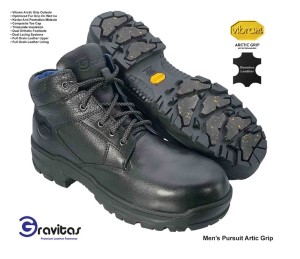 Our year-long wear test results with multiple USA Companies in various industries have been recently recorded, and the results are incredible. We will continue to build upon these positive results because every success represents an American worker whose life we have helped in a meaningful way, and that is what we set out to do.

• 96% of Participants said their feet "feel good" at the end of their workday.
• 100% of Participants said the Shoes offer "outstanding Arch support."
• 100% of Participants would recommend Gravitas Shoes to their Co-workers.

Please check our website for an in-depth Product Review, including technical information and some cool videos regarding the revolutionary Arctic Grip technology from Vibram and Gravitas and what that means for American workers in icy conditions.

Please join the Gravitas team and help us make a positive change in the workplace that every American worker and business owner alike can appreciate and is long overdue.

Jim Ferguson, Founder


Member discount code will appear under company logo when logged in