ThriV Organic Food Bar
MEMBERS RECEIVE A 20% DISCOUNT ON ALL PURCHASES
Survival Food or every day food at its finest!

BIG. RAW. ORGANIC.

A combination of earth's most nutritionally dense superfoods in one portable life-sustaining package.

In 1998 Organic Food Bar was invented by survivalist, patriot, and nutritional guru, Harold McCambridge. It was the first truly raw and organic whole food bar on the market that became an immediate best seller in the US and around the world for many years. We were awarded "Best Bar" Men'sHealth Magazine, Top Gear Award 2010, and best Vegan bar by the Institute of Plant-Based Nutrition for 9 years running. Our slogan back then was "why eat junk food disguised as nutrition bars when you can have the real thing." Today that message rings more true than ever before!

Organic Food Bars are known for:

● High energy
● Endurance
● Complex micro nutrition
● Great Taste and Easy to digest
● Nutrient dense
● Alkaline Forming
● Cold Processed

Not only do we make what we consider the "gold standard" of nutritional products, but we also help free children and their families from poverty, malnutrition, and exploitation through donations with our 'One-For-One" business model.

Organic Food Bar Active Greens was privately labeled for two European militaries as a food source.

We recommended freezing 6-12 boxes (based on family size) and date rotating with consumed bars monthly if possible, so you always have 6-12, for the healthiest survival food ever.

We have all been eating these for breakfast, lunch, and even a light dinner for many years. They are crumb free in the car, so now you can save your morning time at home to NOT mess up the kitchen! LOL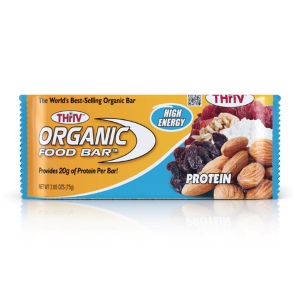 Here is a brief description of our top-selling products available to you at 20% off thanks to Mammoth Nation:

PROTEIN BAR
BIG. RAW. ORGANIC.
A vibrant, raw plant-based source of super foods combined into an alkaline-forming meal for those on the go. This is what we like to call "organic food from the planet to the people," and there is no better Protein bar on the market. This big 75 gram bar packs 20 grams of raw organic protein!

ACTIVE GREENS BAR
This incredible bar contains 10g of raw and organic protein including 4000 mg of an exclusive green superfood blend with certified organic Spirulina, Wheat and Barley Grass Juice Powder (even gluten-free!), Blueberry and Raspberry and MORE! The Active Greens Bar is one of our most nutritionally robust formulas and it doesn't sacrifice one bit on taste. The Active Greens Bar is optimal energy food for those of you who want to add more wholesome, sumptuous organic fruits and vegetables to your diet.

100% PLANT BASED ORGANIC PROTEIN POWDER
The ingredients in these formulas are amazing. Plant Based Protein Powder with 20 grams of protein per serving, our Chocolate or Vanilla powders will add a boost of protein and many other vital nutrients you won't normally find, to your favorite smoothie, shake, drink or recipe. Comes in Chocolate or Vanilla.


Member discount code will appear under company logo when logged in