Clear-vision Sprays and Waxes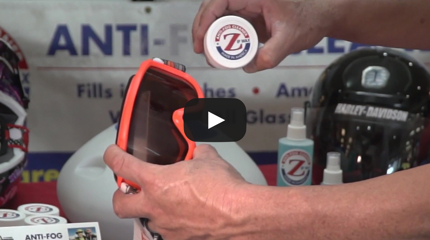 Zip Wax Anti-Fog Cleaner is an AMAZING GLASS AND PLASTIC CLEANER.
It does not get rid of scratches, but it fills them in so when you have your optics on you will not see any fine scratches.
Zip Wax Anti-Fog Cleaner is also an amazing anti-fog. You will not fog up when you go from hot to cold or cold to hot. It is perfect for glasses/sunglasses, ski/swim/safety goggles, face shields, scopes, binoculars, car windows, motorcycle helmets, bathroom mirrors or anything that can fog up.
Zip Wax Anti-Fog Cleaner also provides great hygiene for your cell phones, watches, and tablets preventing fingerprints, oil, dust, and makeup from attaching to those surfaces. Chosen a "Best Product Under $20" on Reddit, Zip Wax Anti-Fog Cleaner is all-natural, contains no alcohol or ammonia and is made in the U.S.A. in Coeur d' Alene, Idaho.
The Zip Wax Anti-Fog Cleaner recipe dates back to WWII and is the most practical purchase you will ever make.
Zip Wax Anti-Fog Cleaner - "The Clearest Clean You've Ever Seen"