American Hunter Gift Box
An exceptional gift for any and all deer hunters in your life! We provide a unique gift that hits the target, honors the American tradition of hunting, and embraces the American spirit of self-reliance and individual freedom. (Available in sizes: Small, Medium, Large, Extra Large)

"A Hunter's Prayer: We pray our sight be straight and our aim be true. We pray for no pain to the game we pursue. We thank thee Lord for this land. We thank thee for the sights in our stands. We pray for safety one and all. We pray we may return next fall." – S. Elliot.

Box Includes:
•The Buck Stops Here Tri-Blend T-Shirt
•Dri Duck Camo Cap
•Lucky Shot Deer Hunting Glass
•Browning Cap Light
•Outlaw Fire in the Hole Soap
•Lucky Shot 9mm Ear Plugs
•Heart of the Outdoors Bible
•Liberty Eagle Zipper Pull
•Additional Resources- Pocket Constitution, The Life of Jesus DVD, 28 Principles of Liberty card, Your 5 Duties as a Christian Citizen Booklet, and "Only One Life" poem by C.T. Studd


American Angler Gift Box
A one-of-a-kind gift for the hard to buy for angler in your life! We provide a unique custom gift that is sure to be a keeper, honors the American tradition of sportsman fishing and embraces the American spirit of self-reliance and individual freedom. (Available in sizes : Small, Medium, Large, Extra Large)

"A Fisherman's Prayer: Lord, I love the great outdoors, enjoying this great world of yours, a fisherman with countless dreams of fishing in your lakes and streams. I cast my line, then cast my cares, and know you'll answer all my prayers. I'll catch a fish and when I do, I always offer a thanks to you. I hope that I can also be just like a man from Galilee who shared God's love with everyone; Jesus Christ, God's only Son."

Box Includes:
•Reel American Tri-Blend T-Shirt
•Dri Duck Walleye Cap
•Lucky Shot Fishing Life Glass
•Bass Pro Shops Cap Light
•Alaska Fisherman Soap
•Microfiber Bait Towel with Clip
•Heart of the Outdoors Bible
•Liberty Eagle Zipper Pull
•Additional Resources- Pocket Constitution, The Life of Jesus DVD, 28 Principles of Liberty card, Your 5 Duties as a Christian Citizen Booklet, and "Only One Life" poem by C.T. Studd


American Gun Gift Box
A unique gift for any Second Amendment supporter or gun-lover in your world! We provide a special gift that honors the Constitutional amendment that protects the rest and the American spirit of self-reliance, patriotism, independence and individual freedom. (Available in sizes: Small, Medium, Large, Extra Large)

"No freeman shall ever be debarred the use of arms." - Thomas Jefferson

Box Includes:
• The 2nd Protects the Rest T-Shirt
• 2A Flag Cap
• Lucky Shot 2nd Amendment Glass
• Lucky Shot 50 Caliber Lighter & Bottle Opener
• Outlaw Blazing Saddles Soap
• Lucky Shot 9mm Ear Plugs
• Camo NIV Holy Bible
• Liberty Eagle Zipper Pull
• Additional Resources- Pocket Constitution, The Life of Jesus DVD, 28 Principles of Liberty card, Your 5 Duties as a Christian Citizen Booklet, and "Only One Life" poem by C.T. Studd


American Hiker Gift Box
We all know that one person that has to be on the trail. Our gift box is the perfect gift for those who believe as Teddy Roosevelt did that, "The farther one gets into the wilderness, the greater is the attraction of its lonely freedom." We provide a unique gift that honors the American pastime of hiking and the American spirit of self-reliance, exploration and rugged individualism (Available in sizes: Small, Medium, Large, Extra Large)

Box Includes:
• Take a Hike Tri-Blend T-Shirt
• Embroidered Mountain Cap
• Survival Water Filtration Straw
• UCO Fire Starting Kit
• Outlaw Mountain Hideout Soap
• Lucky Shot 9mm Ear Plugs
• Coleman 27 Piece First Aid Kit
• Heart of the Outdoors Bible
• Orange Reflective Trail Marking Tacks
• Liberty Eagle Zipper Pull
• Additional Resources- Pocket Constitution, The Life of Jesus DVD, 28 Principles of Liberty card, Your 5 Duties as a Christian Citizen Booklet, and "Only One Life" poem by C.T. Studd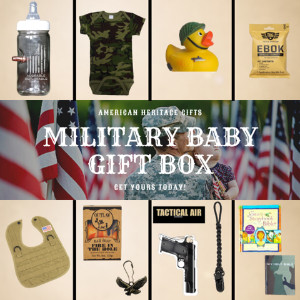 Patriot Baby and Military Baby Gift Boxes
Are you looking for the perfect patriotic gift for God-fearing parents, gun-loving second amendment supporters, hunters, anglers, hikers, or outdoor enthusiasts who love the USA and believe in our Constitution?

The search is over! We offer unique, one-of-a-kind gift boxes that remind Americans that our heritage is a Godly one. We hope our products honor the character and traditions of our republic.

Come support our conservative small business that shares your values and principles of faith, family, and freedom. We invite you to celebrate what makes our country unique...our Godly heritage or what we like to call the Spirit of America.