MEMBERS RECEIVE A 20% DISCOUNT ON ALL PURCHASES
Effective camouflage that also allows you to express your Christian faith from God's Country Camouflage!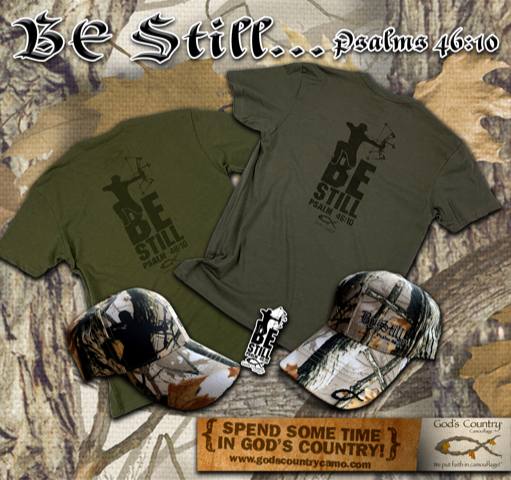 Welcome to God's Country Camouflage.

We are a Veteran Owned small business dedicated to sharing our Faith in Christ and Love of the Outdoors with our Camouflage and Lifestyle products/apparel.

Many camouflage patterns on the market do a satisfactory job of masking the human form in nature, God's Country Camouflage takes it even further allowing outdoor enthusiasts to make a statement of their Christian faith as well as their passion for nature. Whether in a tree stand, duck blind, bass boat or around town, when you wear GCC you wear your faith on your sleeve.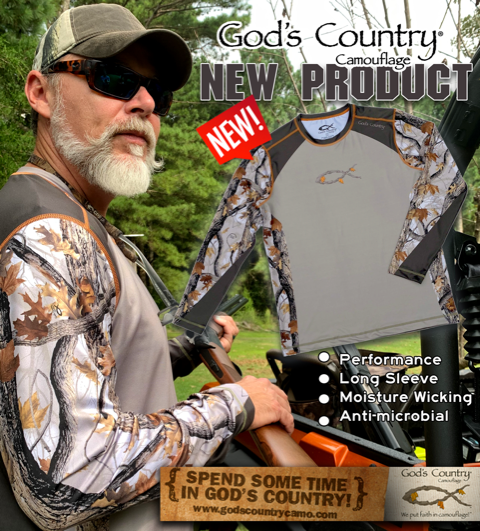 Camouflage that makes a statement
Established in 2004, God's Country Camouflage has been used by Hunters around the globe. With three primary patterns, Early Season, Late Season, and Avalanche, our camo is perfect for your year around outdoor adventures. In 2021 we launched our newest pattern God's Country Refuge to support our love of waterfowl and upland bird hunting. No matter which version of God's Country Camo you choose, look closer and you will find seven Christian symbols of faith (A Cross, The Three Crosses of Calvary, A Challis, Shepard's Crook, Dove, Christmas Star, and the ichthys (or the Jesus fish) strategically placed throughout the design.

- Take a closer look and see why we say, "We put faith in camouflage."

Faith, Family and Freedom based Lifestyle Gear
Perfect for everyday wear or while relaxing at the camp, God's Country gear is the perfect addition to your wardrobe. From hats, to shirts, accessories, and outerwear, the God's Country Apparel is built for style and comfort featuring meaningful designs and artwork.

- Find your next favorite hat or shirt today.


Member discount code will appear under company logo when logged in