Seasonings - Rubs - Marinades - Grits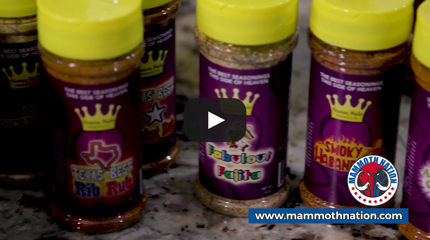 Amazing Cajun inspired seasonings and mixes from Heaven Made Products!
Heaven Made Products was established in 2000 when I was disappointed in several seasonings that I found to be far too salty. Born in Elton, Louisiana, a small real Cajun town, and having lived in several places all over Louisiana, including nine years in and around New Orleans, I was used to eating delicious foods. I had been cooking from the age of 7, and at 40 years old, I was an excellent cook. I figured I could create some good seasonings for my family and friends, nothing more than that; after all, I had four children and a remodeling company with 16 employees - kind of like 16 additional children. My hands were full, and I had no intention of creating more work for myself.
After working on an injectable marinade and succeeding with that, I created a low-sodium Cajun seasoning that became very popular with friends and family. I then made a steak seasoning that became so popular that I was forced to put it on the market. I put it on eBay, and sales went crazy. People were emailing me from all over the world asking me if I ever used the steak seasoning on other types of foods, and I would respond, "No, it's my steak seasoning."
I received so many emails that eventually, I took their advice and tried it on everything, and to my amazement, it was excellent on anything I put it on. I realized I had to change the name to fit the product description better. So many people repeatedly referred to the Heaven Made Products Steak Seasoning by saying, "That Stuff is Incredible!" After one customer said that for about the 20th time, I looked up to my living room ceiling and said, "Ok, God, I got the message." I named it 'It's Incredible,' and it has been our best seller since that day. We sell it to food trucks, caterers, steak restaurants, and thousands of customers worldwide.
There are nearly 300 YouTube videos showing people claiming 'It's Incredible' to be one of the best seasonings they have ever used. It is one of the most talked about, bragged about, most videoed seasonings by YouTubers who haven't been paid to make those claims.
Over time, God has blessed me with the wisdom to create some over-the-top seasonings and mixes. Our Blackened Seasoning and our line of Flavored Grits are the absolute best in the world. Thousands of our customers and YouTubers have claimed that 'It's Incredible' is the best Steak Seasoning and All Purpose Seasoning on the market today.
Give Heaven Made Products a try—I guarantee you will not be disappointed.