Little Guy MYFIRESIDE Pit - Big Guy MYFIRESIDE Pit - Custom or Stock Panels to Express Your Moods & Thoughts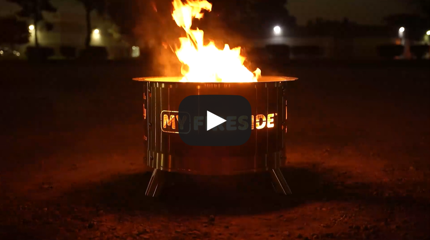 High-quality mobile wood-burning fire pits made in the USA by MYFIRESIDE!

MYFIRESIDE is an American garage start-up. Our mobile wood-burning fire pit offers the flexibility and freedom to change up the visual experience to match your life and the design allows for extreme radiant heat.

We PROUDLY make our pits in the USA! They are fabricated with 100% stainless steel and are designed to last a lifetime. Each pit comes with 3 stock decorative panels of your choice.

Isn't it about time to get back to the basics? MYFIRESIDE pits and panels create the perfect ambiance for family gatherings, relaxing with friends, getting heated over different world views, or peaceful solitary moments.

Finally, a fire pit with true visual freedom. Check out our website and do not hesitate to reach out if you have any questions. Thank you!