MEMBERS RECEIVE A 10% DISCOUNT ON ALL PURCHASES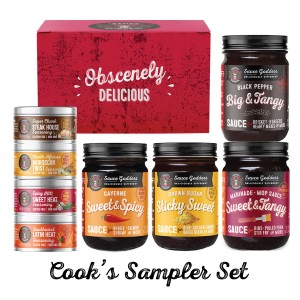 Welcome to Sauce Goddess! This is our story of how it all began.
Our obscenely delicious food products are anything but ordinary. The Sauce Goddess story started with a top-secret family recipe passed down from our founder Jennifer's Dad, Keith, nearly 20 years ago. The love for that sauce grew as we shared our love for cooking with friends and beyond. And we've never looked back. Our story began with one recipe and continues growing to include a range of tasty and award-winning products. Using fresh, real, clean ingredients, we take flavors to new heights on more than two dozen sauces, spice rubs, dips, spreads, and snack foods.
No Junk. Our products are made from the highest quality ingredients around. Vegan. Certified Gluten-Free. Non-GMO. You won't find any additives or preservatives in our stock.
Only Real Ingredients. Our flavors are so powerful because they come from the real stuff. Real food with real ingredients made by real folks. Because you deserve the best.
Award-Winning Flavors. Our competition track record speaks for itself. Thanks to our wide variety of tempting food products, you can experience the taste of victory however you'd like.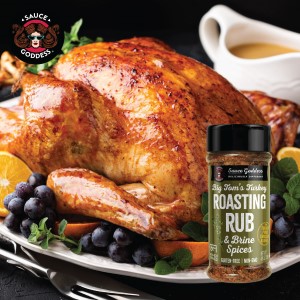 We're very proud of everything we put in our products and purposeful in everything we leave out. We know people want to recognize what's in their food. We do too!

Sauce Goddess is a woman-owned business and devoted community member. We partner with local and national organizations to help challenged adults with disabilities perform jobs that are specific to their special skill set. Everyone who cooks with our products contributes to the Sauce Goddess story.

Our flavors are so good we say, "if you don't lick your fingers, someone else will!".

We give back a portion of our proceeds to a variety of causes, including Mammoth Nation, Ovarian Cancer Research, and Alzheimer's Research.


Member discount code will appear under company logo when logged in