MEMBERS RECEIVE A 20% DISCOUNT ON ALL PURCHASES
7 Stitches® offers stylish, handcrafted surgical recovery products lovingly designed to provide comfort and convenience during your personal journey back to health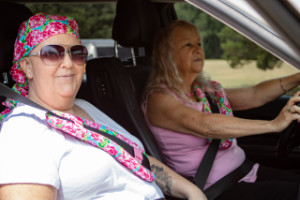 As a veteran married to a now-retired soldier I lived and loved the military life at bases far and wide. With my first sewing machine I discovered I had a talent as a seamstress; developing this skill into my small business, making travel products, was born of a desire to fill the void of leaving behind my career as a teacher.

I was happy making travel pillows and travel products because I sympathized with others and the discomfort of making long uncomfortable car rides. I did not understand then that there could be so much more to this small business until I was approached by a customer who loved my travel pillows. He had a friend going through breast reconstruction and asked me if I could create a pillow that would help alleviate some of her discomfort from the seatbelt. A passion for sewing and my love of helping others was married and I began my first venture in the post-surgical comfort products industry, which lead to the creation of My SeatBelt Bestie™.

My mission became more focused when my Mom was diagnosed with ovarian cancer. Quickly pivoting, I came up with a product for her to use after her total hysterectomy and colostomy.


My Bellymate™ was born completely out of love for my sweet Mom. When it came time for my Mom's port placement, my sewing machine and I went to work to create the Port Pal™".

My love of sewing and my customers have kept 7 Stitches Boutique® going. I absolutely love crafting comfort for those who need it most. My customers have become my friends, and hearing them tell me how my products comforted them is a blessing.

Comfort for the ones you love most™

Tons of Hugs! - Dawn


Member discount code will appear under company logo when logged in