THE OIL
MEMBERS RECEIVE AN $11 DISCOUNT PLUS FREE LIP BALM AND INHALER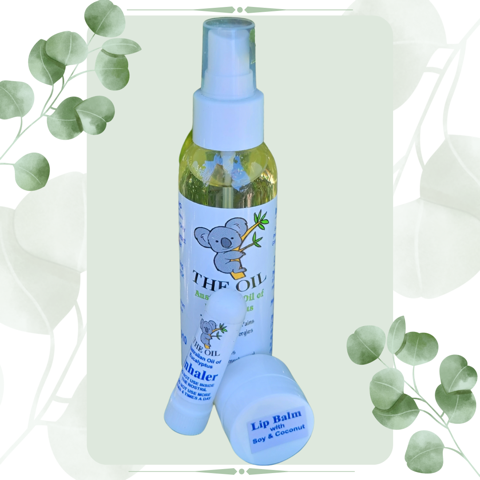 In 1998, Lynda was diagnosed with Fibromyalgia. After taking pills, including one that gave her a mini stroke, she decided to use this liniment. Surprise! This all natural oil worked wonders and greatly helped with her ailments! Unfortunately, the supplier went out of business, so Lynda decided to make her own! That was 15 years ago, and it still works amazingly well!

THE OIL is made from all natural oils. It has been tested for allergies and toxicity. When used as directed it is safe for people and dogs (not recommended for cats.)

There are two oils added to the Special Eucalyptus: Grapeseed and jojoba. These have several different purposes, but the most important thing they do is take the pain relief deep to the core of the issue.

THE OIL is great for Arthritis, Backache and Knee Pain! The Grapeseed Oil takes the Eucalyptus through all three layers of the skin. Eucalyptus relaxes the tissue, muscles, and nerve endings. Jojoba reduces the inflammation. Simply rub a few sprays of THE OIL into the skin for 30 seconds or more. Even after pain subsides, use two to three days in a row for longer lasting relief.

To help combat Allergies put THE OIL in your carpet shampooer, sauna, or vaporizer. Spray on your mattresses when changing sheets! Dust Mites Disappear!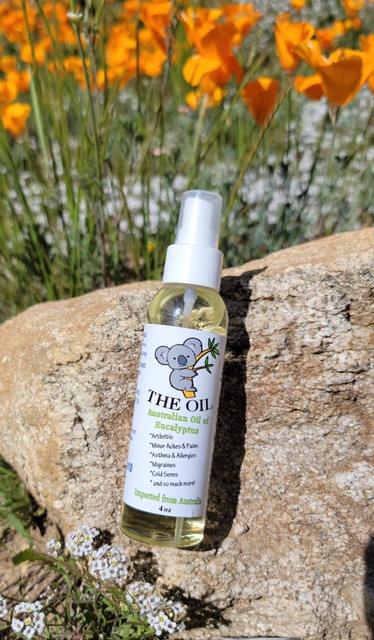 Not much is as disrupting as Headaches, Sinusitis and Migraines. If you are prone to migraines or have sinusitis with headaches, THE OIL will quickly become your best friend! Rub THE OIL on your fingers into your sinuses on the bridge of your nose and temples, rub THE OIL into the back of your neck for at least one minute, then lie down for 10-15 minutes and breathe in THE OIL on a tissue.

THE OIL is an all natural way to help with Asthma, Cough and Sore Throat. When the Eucalyptus is inhaled it coats the throat, bronchial tubes, esophagus and lungs. This leads to relief that lasts for hours. Simply spray onto a cotton ball or tissue and breathe the vapors. Rub into chest and back to allow THE OIL to absorb directly into the congested area.

When you feel the tingle of a Cold Sore coming, apply THE OIL with your fingertip twice a day and you will never see it appear!

THE OIL is also great for relief from Muscle Aches, Tendonitis, Carpal Tunnel and Fibromyalgia.


Member discount code will appear under company logo when logged in