MEMBERS RECEIVE A 10% DISCOUNT ON ALL PURCHASES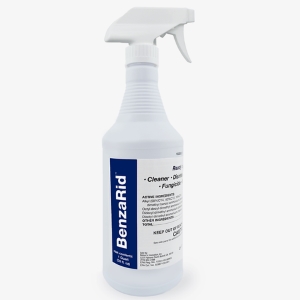 Bio-Dome Group is a woman-owned and veteran-owned US company and an exclusive distributor of BenzaRid Disinfectant. BenzaRid is made in the USA.

BenzaRid is Hospital-Grade and Household Ready. BenzaRid is a medical-grade broad-spectrum disinfectant that quickly and effectively cleans while being safe on everyday household and hospital surfaces.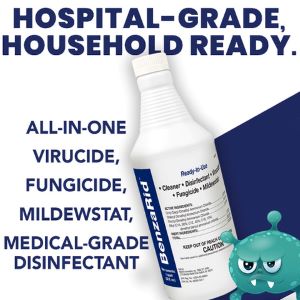 BenzaRid is an EPA-registered, ready-to-use hospital-grade non-staining, colorless, light lemon-scented disinfectant, virucide, fungicide, and mildew stat for your environment. It may be used on non-porous surfaces like beds, couches, chairs, floors, etc. Prevents the re-infection of your home and work environment. Child and pet safe once dry.

Spray all areas potentially infected. Other pathogens BenzaRid can protect from are: Avian Influenza H1N1, H5N1 virus, MRSA, HIV/ AIDS, HSV 1 & 2, Hepatitis B & C, Mycotoxin Black Mold (Aspergillus Niger and other mycotoxin molds), and Human Coronavirus. Affected areas will be safe after 10 minutes of surface contact with the product. Kills black mold (Aspergillus Niger) and many deadly toxic molds.

BENEFITS:
Cleaner, Disinfectant, Virucide, Fungicide & Mildewstat.
EPA-Registered Hospital Grade Mold Killer, Flood Damage, Water Damage, Disinfectant, Mites, H1N1, H5N1 Bird Flu Viruses.
Non-staining, Colorless.
Hospital & Industrial Strength disinfectants, including MRSA Virus, Fungicide & Mildewstat.
Mold Killer Used by Professionals to Remediate After Flood and Water Damage.
US EPA Registration #: 10324-85-88904.
Used in Hospitals, Medical Facilities, Airlines, and Any Areas Requiring Multi-Purpose Virucidal, Bactericidal, and Fungicidal Performance.
It is proven to kill areas infected with Avian Influenza H1N1, H5N1 virus, MRSA, HIV/ AIDS, HSV 1 & 2, Hepatitis B & C, Mycotoxin Black Mold (including Aspergillus Niger, and others) within 10 minutes of contact.
Member discount code will appear under company logo when logged in