MEMBERS RECEIVE A 10% DISCOUNT ON ALL PURCHASES
A patriotic response to those who turned their back on our flag and country, read "One Flag, One America" by Michelle Hirstius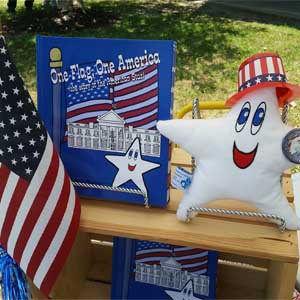 WHY I WROTE THIS BOOK
This book was my response to the NFL kneeling during our National Anthem. I was mad and embarrassed that our children were seeing this disrespect and that other countries saw what our own people were doing. Men and women fought and paid the ultimate sacrifice for our country and for people to kneel or turn their backs during the National Anthem and our flag is like doing that to them. So I took my anger and decided to turn it into something positive and make sure the children growing up now will learn why we STAND, why America is free and why America is just down right awesome!

MICHELLE HIRSTIUS
Hirstius is an author, illustrator and publisher from New Orleans who believes the United States is the greatest nation on earth. A self-taught artist and writer, she started drawing in high school, taking her inspiration from comics. In 2012, she began her career as a children's book author and illustrator with only a $168 budget to publish thirty copies of her first release "Juju the GOOD voodoo." She has published ten books and she sold more than 18,000 copies. Hirstius received the St. Tammany Parish President's award for Literary artist of the year in 2019. Michelle lives in the Greater New Orleans area with her Cairn Terrier Sassy.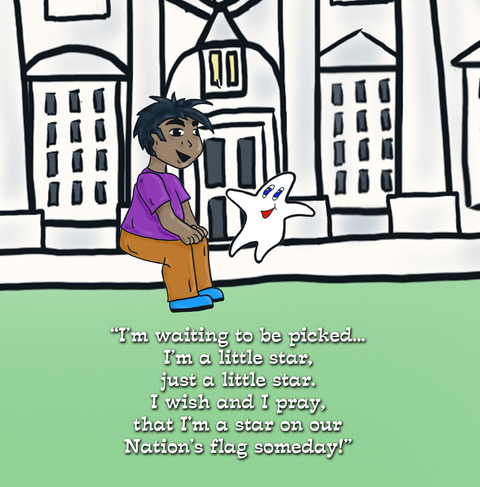 ONE FLAG, ONE AMERICA
In this award winning patriotic children's book, you take a journey with this little star! "I'm a little star, just a little star. I wish and I pray, to be a star on our nation's flag someday!" Along the way he teaches children the true meaning of the American flag and what it stands for, asking questions such as, "Why does the flag have 50 stars? Why does the flag have 13 stripes? Why is the flag red, white and blue?" Children learn to stand in honor of our flag, read the Pledge of Allegiance and sing the National Anthem to our heroes who have made us free.

This educational and inspirational book makes it not only interesting but fun for children and adults to learn the history of our nation's flag. In the end the little star makes it to the nation's flag, teaching children to aim high and never sway so they can be like the star and reach their goals. Each patriotic page is beautifully illustrated in full color and is written for teachers and parents to easily make the story into a small play for children to interact and learn together.


Member discount code will appear under company logo when logged in